Is red wine really good for you?
Updated on Nov 29, 2015 11:42 AM IST
Some studies indicate it might be. But only if you stick to the recommended limit: one glass a day for women, two glasses for men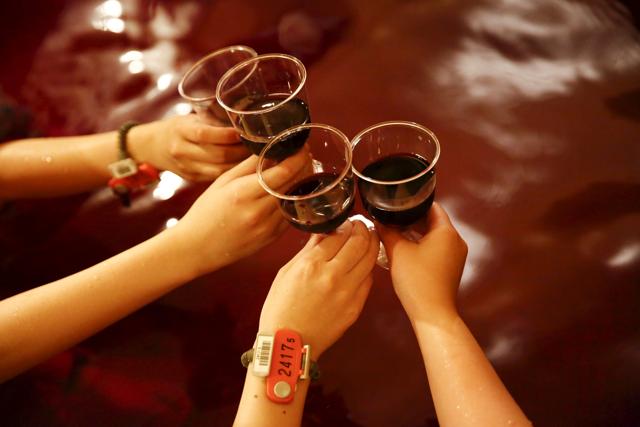 Navratras are over. Diwali feasts are over. Now it's time for weddings, Christmas get-togethers and a big New Year's do. Booze is all around you.
So what are you drinking? Are you sticking to red wine because it's supposed to be good for you? And if your answer is yes, then how much?
In 2011, the American Heart Association polled 1,000 adults and found that 76 per cent agreed that wine could be good for the heart, but only 30 per cent knew what the recommended limits were.
The problem is that we take information at face value and ignore the fine print. And that can be detrimental for our health.
Is red wine as good as it's meant to be?
Red wine worship started when people (Americans mostly) began to wonder how wine-guzzling, carb-loving French folk managed to stay much thinner and healthier than diet-obsessed others. This was called the French Paradox and the dietary habits of France were studied minutely.
A few studies and surveys later, wine (like olive oil) was put on a pedestal. This was because it contains compounds like quercetin and resveratrol (polyphenols), from the red/purple grapes from which wine is made, which can lower cholesterol, blood pressure and weight, and help prevent cancer.
Wine (both red and white) also has the lowest sugar content amongst alcoholic drinks, and at approximately 125 calories for a five-ounce pour, it's a lighter choice than beer (250 calories for a pint) and mixed drinks (a single cocktail can go up to 500 calories). Plus, wine is mostly sipped slowly, so people probably drink less of it than any other kind of alcohol.
Unfortunately, studies that show how wonderful red wine can be, are still a work in progress. Some studies, for instance, show that the effect of resveratrol is only short term. Another report, published in the journal Alcohol and Alcoholism in 2012, found drinking wine is associated with a higher incidence of breast cancer in women.
So the halo hovering above that bottle of red is not justified.
Two other points to bring you down from your happy high. First, most research on resveratrol has been done on animals, not people. And second, India is a much hotter country than the countries of western Europe. What are the effects of red wine in the blistering climate of India, on Indians predisposed to obesity, heart disease and diabetes?
And here's more to think about. The red wine frenzy only began in the 1990s, so the studies can't tell us about long-term outcomes of its effects on heart disease, inflammation and cancer. At best, we can speculate and make inferences.
So, does red wine really rule? Various studies have shown that moderate amounts of all types of alcohol benefit our hearts. But red wine gets all the media. And there's some evidence that any protective benefits of wine on the heart generally only works over the age of 45.
And let's not forget that the polyphenol content in various wines is not the same: it depends a lot on the type of grapes used to make the wines. So not every wine will give you lots of keep-you-healthy antioxidants. And in fact, benefits from the resveratrol in red wine might be outweighed by the alcohol you are ingesting along with it.
How much is too much?
You can still give red wine the benefit of doubt. Face it, it's tasty! But how much is good for you? Many people say they follow the French example and drink two or three glasses of wine a day for the good of their heart.
But the benefits of wine stand only if you stick to the prescribed amount – no more than two drinks (eight ounces) a day for men and one drink (four ounces) per day for women. Any more will, in fact, make you more vulnerable to heart disorders, including high blood pressure and stroke, and even osteoporosis. Too much alcohol raises the risk of a wide range of other health problems, such as liver disease, loss of libido, menstrual problems, nerve and muscle damage, anxiety, proneness to accidents and depression. Because antioxidants or not, wine still has alcohol content. And alcohol (yes, even wine) can be addictive.
The bottom line
If you are a non-drinker, you don't need to begin. No expert will ever recommend that you start drinking red wine (or any alcohol) just to prevent heart disease or keep cancer at bay. Besides, quercetin is found in apples, citrus fruits, onions, parsley, grapes and tea, and resveratrol is also found in fruits and vegetables, peanuts, pistachios, grapes, blueberries, cranberries and even cocoa and dark chocolate.
If you do drink, then stick to the prescribed limit.
So a glass of wine with dinner? Bien sûr! That's good. But not two, not three, not four, not five, and certainly not a bottle at a time.
*
White pales beside red
White wine is not considered as healthy as red. That's because the resveratrol in red wine comes from the coloured skin of the grapes used to make wine. And as red wine is fermented with grape skins longer than is white wine, red wine contains more resveratrol.
Some studies show that white wine helps keep lung tissues healthy. But it is not good for our teeth apparently, because of its acidity.
*
The deal with brandy
Brandy is made by further distilling wine and is usually enjoyed as an after-dinner drink in small measures. And that's how it should be, as its alcohol content is very steep.
Brandy has been considered medicinal for a long time, possibly because of its ellagic acid, a phytonutrient with cancer-fighting properties.
The antioxidants in it help suppress the activity of a gene called NF-kappaB that plays a role in inflammation which leads to cardiac problems, so it is supposedly heart protective too.
It's not very clear why, but brandy has soothing, warming and relaxing qualities which apparently help induce healthy, restful sleep. It also functions as an expectorant, so small amounts are often given to relieve respiratory distress during winter.
From HT Brunch, November 29
Follow us on twitter.com/HTBrunch
Connect with us on facebook.com/hindustantimesbrunch
Personalise your news feed. Follow trending topics