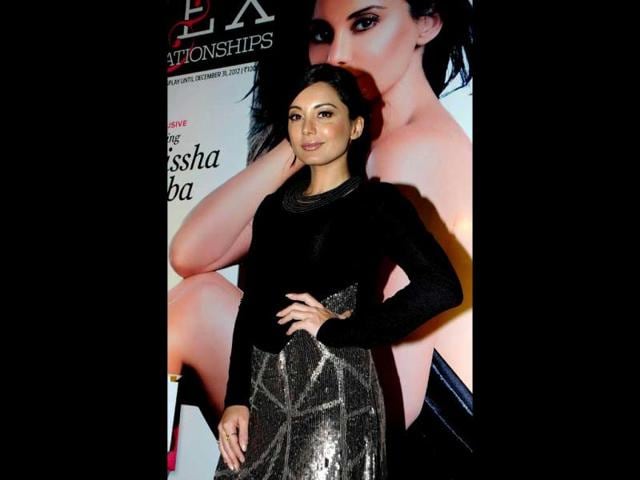 Personal Agenda: Minissha Lamba, Actress
Actress Minissha Lamba talks about her dream role, movie that makes her cry and her greatest fear!
UPDATED ON SEP 22, 2012 04:42 PM IST
Actress Minissha Lamba talks about her dream role, movie that makes her cry and her greatest fear!




One film role you'd give anything to play.
Meryl Streep in The Iron Lady.
One place you're sure you can escape the paparazzi.
The toilet.
The last movie that made you cry?
I just finished watching My Sister's Keeper so that has to be it.
If life had a backspace button, what would you delete?
My dress sense in college. When I look back at what was in fashion then, I want to hide.
The last thing you spent Rs.10 on.
A packet of Balaji chips.
What can you live in?
My all-time favourite dresses.
One song that always lifts your spirits?
Reason by Hoobastank.
Your 3am friend?
My best friend Ashi.
On what occasion would you lie?
When I don't want to hurt somebody.
What is your greatest fear?
To let down my loved ones.
If you could change one thing about yourself, what would it be?
I trust people very easily.
The craziest rumour you've heard about yourself?
That I got a tattoo.
The one place where you would never get yourself tattooed?
My face.
The most clichéd answer you've ever given in an interview?
We are 'just friends'.
If you were an ice-cream, which flavour would you be?
Chocolate.
The exercise routine that scares you?
CrossFit. It seems to be really 'in' these days, but it also sounds like the toughest regime.
What does your name mean?
Daughter of mankind.
For a romantic meal, you would make...
I would love to whip up some nice spaghetti in pesto sauce, and lemon grilled chicken, accompanied by a bottle of champagne.
What would we find in your fridge right now?
Lots of healthy food.
One thing about you that isn't generally known?
That I can sleep for hours at a stretch.
How many pairs of blue jeans do you own? About 25.Your darkest fantasy?
It's too dark to be shared.
A role you wish you had played?
Audrey Hepburn in Breakfast at Tiffany's.
Three places you love shopping in?
London, Milan and New York.
Do you believe in fairytale endings?
I am a diehard romantic and I believe in fairytale endings.
A fashion trend you can't stand?
Tie and dye, and socks with loafers.
Yoga or the gym, which do you prefer?
I prefer the gym.
Your favourite TV shows?
Friends, Two And A Half Men, Grey's Anatomy... the list just goes on and on...
if i could...i would
Go back in time and meet Marilyn Monroe
Be a super hero and stop global warming
Go Skydiving with friends
Ensure freedom for everyone
Eat all I want without getting fat
Sun sign: Capricorn
Birthday: January 18
Hometown: Mumbai
Place of birth: Aurangabad
School/college: Sherwood Hall and Chettinad Vidyashram, Chennai; Miranda House, University of Delhi
High point of your life: When I signed my first film
Low point of your life: Losing my pet
Currently doing: Travelling to my favourite destinations

From HT Brunch, September 23
Follow us on twitter.com/HTBrunch
Connect with us on facebook.com/hindustantimesbrunch
Close