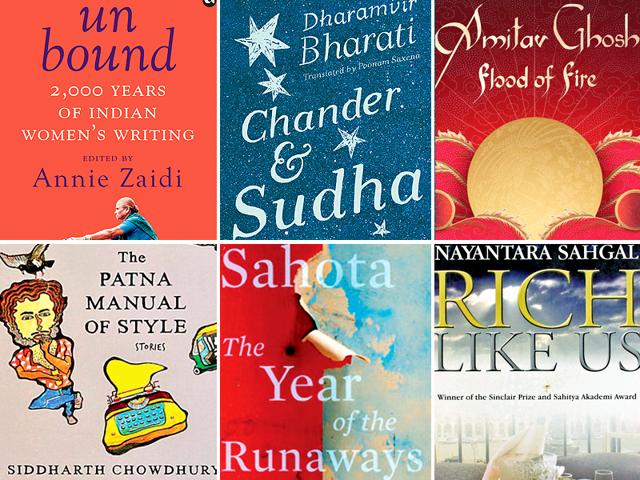 The books that defined 2015
Little-known writers who made a big impact, trilogies that finally concluded, quick reads, instant hits, slow-burning successes and the words that kept us up at night.
By Saudamini Jain
UPDATED ON DEC 27, 2015 12:12 AM IST
Little-known writers who made a big impact, trilogies that finally concluded, quick reads, instant hits, slow-burning successes and the words that kept us up at night.
Writers and their voices
In the world of books, 2015 represents a particularly fiery chapter. Nearly three dozen writers returned government awards and honours, protesting, in general, the growing intolerance in the county, and, in particular, the murder of the rationalist writer MM Kalburgi. Over the last few months, we've heard their names in news reports. And as the year slowly drew to a close, we hunted for their works in English (or in translation). Read the works of the writers who were the voices of protest in 2015
1. Rich Like Us (1985) by Nayantara Sahgal: This novel, set in post-Independence Delhi, tracks the life of two women — an Englishwoman, Rose, married to an Indian; and an unmarried civil servant, Sonali. The story revolves around how the Emergency changed their lives and that of their families.
2. The Walls of Delhi by Uday Prakash (translated from Hindi by Jason Grunebaum): This is a collection of three short stories. One of them, Mohandas, is about a lower-caste boy whose identity (and job) is stolen by an upper-caste man. It is perhaps Prakash's best-known story.
3. Othappu: The Scent of the Other Side by Sarah Joseph (translated from Malayalam by Valson Thampu): Othappu is the last in Joseph's Malayalam trilogy. (Each book has a central female protagonist). This novel is about a nun who leaves the convent and begins to live with a former priest – it is about love and longing, and about sexuality and spirituality.
4. Abhijatri (1996) by Nirupama Borgohain (translated from Assamese as One Life Many Rivers by Pradipta Borgohain): Borgohain has written more than 30 novels. She is one of the most important women voices in Assamese literature. Abhiyatri is a biographical novel, based on the life of the feminist freedom fighter Chandraprabha Saikiani.
5. Love Across The Salt Desert (2011) by Keki N Daruwalla: Daruwalla is best known for his poetry. And so his collection of 20 short stories is particularly poetic. The title story was supposedly what inspired the film Refugee. This is a diverse set of tales. They cover the freedom struggle, life on the Indo-Pak border, corruption and more.
6. Mitro Marjani (1966) by Krishna Sobti (translated from Hindi as To Hell With You Mitro by Gita Rajan and Raji Narasimhan): At 90, Sobti is one of our most important literary figures. This novel is the story of Sumitravanti, the daughter-in-law of a conservative middle class family. It weaves in and out of her life as a married woman and her sexuality.
7. Kusumabale by Devanoora Mahadeva (translated from Kannada by Susan Daniel): Dalit activist Devanoora Mahadeva's 1988 novel is a story of four generations. It touches on the murder of an untouchable young man, Channa, who has an affair with Kusuma, an upper-caste girl. Feudal opression is a key theme, but at the same time, the story bring in elements of folklore, with lamp spirits that exchange tales at midnight.
8. This Number Does Not Exist, Selected Poems 1981-2013 by Mangalesh Dabral:
These poems are translated by several of well-known poets, including Arvind Krishna Mehrotra and Sudeep Sen. Dabral, who was born in a Tehri village in the Himalayas, writes a lot about the land, the Tehri dam and the displacement of his people.
9. Painted Words: An Anthology of Tribal Literature by G N Devy: Devy, the anthology's editor, is a noted linguist from Gujarat. This collection puts together writings (in translation) by adivasis from all over India. It includes local versions of the Mahabharat and the Ramayan and many oral legends.
10. Kashi Ka Assi by Kashinath Singh
This 2004 novel, a satire about how commercial the holy city of Varanasi has become, was adapted into the film Mohalla Assi this year. The Delhi high court had stopped the film for being released for hurting religious sentiments.
11. Shahdaba by Munawar Rana
In an interview with Aaj Tak, when asked about the title of this book, Rana said, that "just the way the area between two rivers is called a doab, whenever we ask someone to meet us near the beehive, we say, come to the shahdaba." This includes nearly 30 ghazals and 40 nazms.
12. After the Last Kiss by Mandrakanta Sen (translated from Bengali by Arunava Sinha): These are 11 poems, all from Sen's first book Hridoy Awbadhho Meye (The Heart's A Disobedient Girl, 1999), which she wrote at the age of 27.
13. Tatti Tavi Da Sach by Atamjit Singh: A play based on the martyrdom of the fifth Sikh Guru, Guru Arjan Dev
14. Agni-Kalas (2005) by Gurbachan Singh Bhullar: Bhullar's short stories aren't limited to a certain spectrum. A story in The Tribune said, "Having seen the best and the worst of Punjabi rural life as well the bourgeois existence in a metropolis, he tackles the various shades of these cross currents with equal felicity."
15. Pratinidhi Kavitayen (2007) Ashok Vajpeyi
A collection of select poets by Ashok Vajpeyi, one of the most prominent Hindi poets who has written over 14 books of poetry.
16. Dhahwan Dilli De Kingre by Baldev Singh Sadaknaama
Sadaknaama has a fascinating story. The writer was once a truck driver, and many decade ago he sent a dispatch about his experiences to the celebrated poet Amrita Pritam. In 1979, she began publishing him in her literary magazine Nagmani. Dhahwan Dilli De Kingre is a novel about the folklore hero Dulla Bhatti, widely known as the "Robin Hood of Punjab". Another one of his well known novels is Lal Batti, which is about the life in brothels of Kolkata's red-light area, Sonagachi.
17. Chauthi Koot (Short Stories) by Waryam Sandhu: The title story is set in the Punjab of the 1980s, and the agitation for a separate state. It was made into a film, The Fourth Direction, screened at Cannes.
18. Bagane Boharh Di Chhaan (Shade of the Alien Oak) by Ajmer Singh Aulakh: This is a play about a tenant farmer, and a commentary on the problems with the agriculturalists. According to The Tribune, the play received "both critical acclaim from thick-skinned theatre critics and the adulation of rural masses."
19. Short Stories by Mohan Bhandari (translated into English by Paramjit S Ramana): Bhandari's short stories are about the changing social structure of Punjab. His most popular story is Moon di Akh.
20. Agarbatti by Jaswinder: This is an anthology of ghazals in Punjabi. In the Seventies, Jaswinder who was deeply influenced by Marxist ideology wrote revolutionary poetry, but, eventually began writing ghazals.
21. Lafzan Di Dargah (Shrine of Words) by Surjit Patar: This is a collection of poetry by one of Punjab's finest writers. An article in The Tribune described Patar thus, "Patar cannot be separated from the sensibility and the aspirations of Punjab. It is impossible to take Patar out of Punjab and neither can Punjab be taken out of Patar. Despite that, Patar's work reflects a universal voice that is seeped with nuanced humanism and a sense of modernity that seemed neither dated, nor trapped in regional boundaries."
22. Mahan Kambani (The Ultimate Trembling) by Darshan Battar
23. Aawon Mein Baarahon Maas by (The Twelve Months in Crisis) by Ambika Dutt
24. Nakhalistan Ki Talash by Rahman Abbas (Search of an Oasis)
Radical groups threatened a protest over Abbas's debut novel Naklistan Ki Talash, which they deemed obscene. It was about a Mumbai University student's affair, set in the backdrop of the 1993 Bombay riots.
25. Uggu Paalu (Short Stories) by Bhoopal Reddy: This is a collection of short stories for children.
26. Leaves of Chinar by Ghulam Nabi Khayal: Essays on Kashmiri life and culture.
27. Pita Putra (Novel) by Homen Borgohain: A novel set in a remote village in Assam, spanning two generations and India becoming independent.
28. Aramane by Kumbar Veerabhadrappa
29. Partavistaan (a collection of poetry) by Marghoob Banihali
30. Samhi Khulto Marag (a Rajasthani novel) by Nand Bhardwaj
31. Do Panktiyon Ke Beech (Between Two Lines) by Rajesh Joshi: This is a poem about the act of writing poetry. A report in The Hindu noted that Joshi "is one of those widely published and publicised Hindi authors, who successfully transcend all barriers of language, creed and nationality."
32. Kattiyanchina Daari (a collection of essays) by Rahamat Tarikere
33. Mohan Dasa Ondu Satya Kathe, translated by GN Ranganatha Rao: This is a Kannada transaltion of Mohandas - A True Story of a Man, His People and an Empire, Rajmohan Gandhi's book on his grandfather.
34. Samay O Bhai Samay, translated by Chaman Lal: This is a collection of the Hindi translation of the revolutionary poet Pash.
*
Closure: Saying goodbye to trilogies
Flood of Fire by Amitav Ghosh: This heavily researched series changed the way historical fiction is written. It deftly converges the tales of four divergent characters, as the story moves from India to China in the 19th century.
Rest in Peace Ravan & Eddie by Kiran Nagarkar: Our two favourite boys in Mumbai are now well-known movie producers, they turn filmmakers but lose their fortune and must start from scratch. As usual, the book is riotous and poignant at the same time. We're still hoping we'll meet Ravan and Eddie in a fourth book.
*
Spotted on the commute
Scion of Ikshvaku by Amish Tripathi: This is a retelling, a fictionalised account, or in Tripathi's words "my version" of the Ramayan. His Sita is a feisty warrior princess, his prose ridden with pop-philosophy: "If karma is giving you a negative signal repeatedly, then it is not testing you, it is trying to teach you." This is a series, at least four more books are expected.
Mrs Funnybones by Twinkle Khanna: This is a peek into the life of a celeb wife — it's being hailed as the humour book of the year, but really, it's mostly meh. There are about a dozen HILARIOUS lines like this one: "I tell her, 'It's not funny, Mom, and sometimes you really do make stupid mistakes.' She snorts, 'That's true, I made you.'"
The House That BJ Built by Anuja Chauhan: The sequel to Those Pricey Thakur Girls. Like every Anuja Chauhan novel, this one was sly, smart and superbly plotted.
Aarushi by Avirook Sen: Sen traces the murder and aftermath of 14-year-old Aarushi Talwar and the Talwar's servant Hemraj, in Noida on 15-16 May 2008. His telling of the tale spotlights frightening loopholes in the legal system and investigative practices and ineffecient government agencies.
*
Translations
Chander & Sudha by Dharamvir Bharati (translated by Poonam Saxena): A charming translation of India's highest-selling novel in Hindi, the 1949 novel Gunaahon Ka Devta. This is a tender romance set in Allahabad, and is a heart-wrenching tale of two people falling intensely in love – and being devastated by unfulfilled longing.
Falling Walls by Upendranath Ashk (translated by Daisy Rockwell): This is only the first of six parts. Ashk's 1951 series, Girti Deevarein is about a middle-class man, an aspiring writer in the '30s, and the surprises and sorrows that come with the dream.
One Day in the Season of Rain by Mohan Rakesh (translated by Aparna and Vinay Dharwadker): This translation of Rakesh's 1951 play Ashadh Ka Ek Din re-imagines the life of Sanskrit poet Kalidas. This is a portrait of the artist and the conflict between his muse and his craft.
*
Notable Indian Fiction
The Patna Manual of Style by Siddharth Chowdhury: Hands down, one of our favourites of the year. In typical Chowdhury style, this book follows the lives of Biharis living in Delhi, in telling, rip-roaring and well-observed detail.
Don't Let Him Know by Sandip Roy: It's a collection of Bengali-NRI short stories that come together to form a lovely novel about a family full of ordinary secrets
Two Years Eight Months and Twenty-Eight Nights by Salman Rushdie: Another book that is roughly based on Salman Rushdie's own experiences. Stories lead to substories, which lead to more substories and there seem like 2,828 stories.
*
The Booker Shortlist
The grimmest books of the year were also shortlisted for the big prize in books:
The Year of the Runaways by Sunjeev Sahota: The lives of illegal immigrants in Suffolk, England, and how they got there. One sold a kidney, another watched his family burn to death. It tells tales of caste, struggle and hope.
Sleeping on Jupiter by Anuradha Roy: This is about a young woman tracing back her childhood in a small religious Indian town and it covers a lot of what's evil in the world: sexual abuse, the dark side of religion, and crimes against women and children.
*
The collectible
Unbound 2,000 Years of Indian Women's Writing, edited by Annie Zaidi: This includes short stories, essays and poems from Indian writers from across the country.
From HT Brunch, December 27
Follow us on twitter.com/HTBrunch
Connect with us on facebook.com/hindustantimesbrunch
Close