Jet Airways may be grounded in 60 days as funds running out, airline tells staff: Report
Jet Airways has asked its pilots to take a 15% pay cut for two years, as the airline says it's running out of time to slash costs and raise revenue, according to a source.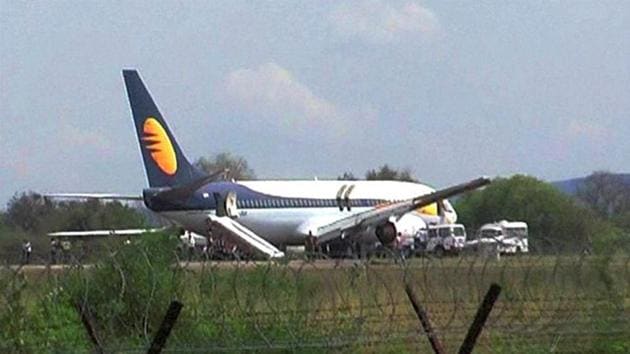 Updated on Aug 03, 2018 01:11 PM IST
Reuters, New Delhi | By Reuters
India's biggest full-service carrier Jet Airways Ltd has told its pilots the airline may be grounded in 60 days unless cost-cutting measures including pay cuts are put in place, a senior company executive told Reuters on Friday.
Pilots who have refused a proposed 15% pay cut for two years had been informed that the airline was running out of time to slash costs and raise revenue, the source said.
The company was looking at sales and distribution, payroll, maintenance and other areas for savings to create a "healthier and a more resilient business", a company spokesman said in a statement.
Management was in talks with all stakeholders, he added, without giving further details.
Jet Airways is looking for working capital loans but banks want the airline to show a turnaround commitment, the source said, adding that salary reduction was part of the same issue.
"There are some job losses across verticals but not among pilots," the source added, declining to be named as the talks with staff were private.
Cost Cutting
Surging fuel prices and a weaker rupee are hurting Indian airlines, with the country's leading carrier IndiGo reporting a 97% plunge in profit on Monday.
Jet Airways agreed last month to purchase 75 Boeing Co 737 MAX aircraft to meet domestic passenger demand, taking its total order for the wide-body planes to 225.
The airline said the planes would enhance efficiency and lower costs, a move that is likely to reduce losses and improve competitiveness.
The company, part owned by Etihad Airways, had net debt of Rs 81.5 billion ($1.2 billion) as of end-March with the bulk of it being US dollar denominated.
Jet Airways in July 2017 asked dozens of junior pilots to take 30-50% salary and stipend cuts or quit, sources had told Reuters.
The management team including Chairman Naresh Goyal had informed employees that drastic measures were needed, the Economic Times reported earlier on Friday, citing two executives.
Separately, Mint reported that Jet Airways had approached investment bankers again to help sell a stake in the carrier, citing two people with direct knowledge of the matter.
Close Story