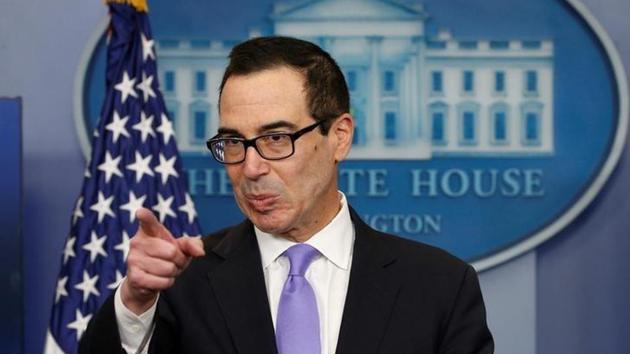 Dollar hits 1-month high vs yen on Mnuchin bond hints
Mnuchin says issuing debt exceeding 30-years in maturity "can absolutely make sense".
London | By Reuters
UPDATED ON MAY 02, 2017 02:17 PM IST
The dollar hit a one-month high against the yen on Tuesday, lifted by a surge in U.S. government bond yields after U.S. Treasury Secretary Steven Mnuchin commented on the possibility of ultra long-term bond issuance.
With European markets returning after Monday's May Day holidays, the greenback gained around a quarter of a% to trade as high as 112.18 yen, its strongest since March 31 and close to a six-week high of 112.21 yen.
Mnuchin told Bloomberg in an interview on Monday that issuing debt exceeding 30-years in maturity "can absolutely make sense", driving 30-year yields to a three-week high and returns on 10-year bonds to a session peak.
The euro, however, held strong against the greenback, some measure of market doubts over whether the Trump administration is capable of delivering a promised boost to growth, chiefly now envisaged to come through tax cuts.
"Mnuchin's comments have at least stabilised the long end of the curve," said Lee Hardman, a currency economist with Japan's MUFG.
"But the dollar is still on the defensive in the near term. The data from the U.S. has been coming in on the disappointing side and the Fed is likely to acknowledge that at this week's meeting."
The "Trumpflation" trades that dominated the end of last year, driving Treasury yields and the dollar higher on expectations of higher inflation, growth and official interest rates have faded this year.
The dollar has fallen almost 4% against the euro in the first four months of 2017. It traded less than half a cent off last week's 5-1/2 month high of $1.0951.
The latest U.S. economic indicators have been underwhelming. A survey out on Monday showed factory activity slowed in April, while data showed consumer spending was unchanged in March, and an important inflation measure fell on a monthly basis for the first time since 2001.
Other U.S. data out later this week include an ADP employment report on Wednesday, durable goods orders on Thursday and a non-farm jobs report on Friday.
The Fed is widely expected to keep interest rates unchanged at a two-day policy meeting that begins on Tuesday, but its attitude to the recent data will be crucial for market expectations of another rise in interest rates in June.
Sterling, one of the past month's strongest performers in currency markets globally, dipped 0.1% to $1.2871 and 0.2% to 84.75 pence per euro, with eyes moving to a PMI survey of manufacturing sector purchasing managers.
Some analysts were surprised there was not a bigger impact from readouts of a fractious meeting between Prime Minister Theresa May and a European Union delegation last week that bodes ill for the first stages of Brexit talks this year.
"While political clarity has been applauded by investors so far this year, it is clear from the past 36 hours of trading that the focus is now moving on to the negotiations over the UK's exit," said Simon Derrick, chief market strategist with Bank of New York Mellon in London.
"Given the likely challenges ahead, this suggests that the pound may now find upward progress rather harder than it has so far this year."
Close