Durex Jeans: Condom for the denim and Tinder generation
Updated on Mar 26, 2017 05:28 PM IST
Durex, the world's largest makers of condoms has launched Jeans, a new condom brand in a new packet, priced at Rs 25 for two.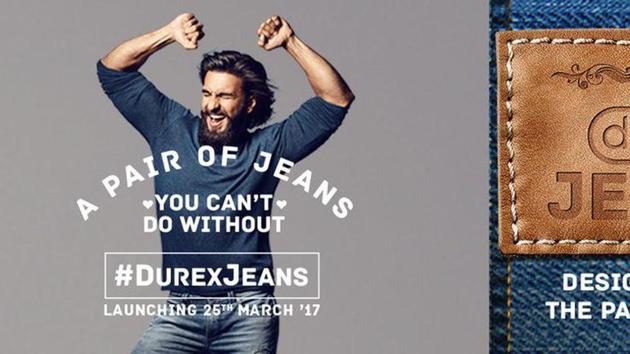 For all those who thought that Durex, the world's largest condom maker was launching denims will be disappointed. The company has launched a variant of condom, with a new packet that fits well in your body-hugging denim pocket.
Durex wants to target the upwardly mobile, digital savvy population who swipe left and right on Tinder for dating, and have an active sexual life. "The packet, which is the slimmest the company has come out with disappears in your jeans pocket," said Rohit Jindal, director - marketing at Reckitt Benckiser India.
The pack of two condoms comes in a sachet, different from the box packets Durex had earlier. While the company does not want to categorised as selling only to the youth, Jindal said that the "whole idea of sex evokes an outgoing nature… It is also for people who are trying to find a date on Tinder."
The company, however, wants to break the taboo of buying and carrying a condom in the pocket. With Jeans, Durex wants to target everyone who wants to have "safe and healthy" sex. It is about "normalising sex", explains Jindal.
Like a pair of denims the pack comes with a pair of condoms. One of the company ad said, "A pair of Jeans, you cannot do without #DurexJeans."
Jindal elaborates. "The whole concept is, 'I don't leave my house without my pair of Jeans," he said.
The concept, however, isn't new. The Indian government has been promoting the use of condoms for over a decade. Its tagline, "chalo condom ke saath (walk around with a condom)", has been there for long.
Despite all efforts the condom industry in India is growing at snail's pace at couple of percent every year. Estimates show that the industry is worth Rs 1,500 crore annually. "India has a very low penetration," said Jindal.
In a market that is growing slowly, and is cluttered with more than a dozen national brands, Durex wants an edge. Jindal hopes to spread awareness with its new brand and marketing philosophy.
The different kind of packaging, which lends its design and colour from a pair of denims, will not have the usual intimate picture of a couple, or of a half-naked woman, rather the pack will have an image of a blue denim pants.
The whole idea, Jindal said, is to be able to keep the condoms in a jar on the retail counter, so that it is visible and easy to pick. "We want to sell it like candies," he said. The pack of two is priced at Rs 25.
Durex has also roped in Ranveer Singh to do an ad, which shows him take off his pair of denims inside a trial room, and hang it. In the ad, Singh said, "I will be the first one to have it."
Personalise your news feed. Follow trending topics