Economic Survey: Resolving NPAs, implementing GST will lift GDP
Updated on Jan 29, 2018 03:34 PM IST
Economic Survey for 2017-18 was tabled in the Lok Sabha by finance minister Arun Jaitley.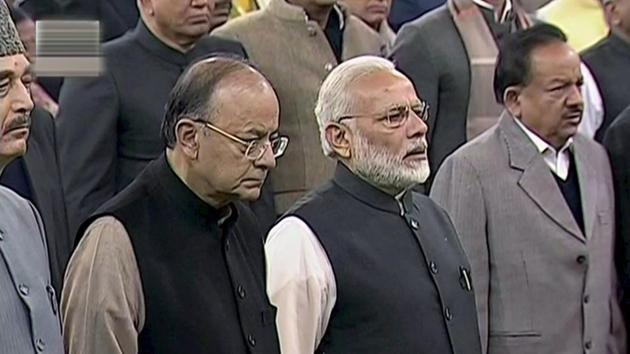 Indo Asian News Service, New Delhi |
Indo Asian News Service
Resolving the non-performing assets (NPAs), or bad loans, of state-run banks and implementing GST are among the major factors that will aid India log GDP growth of 6.75 per cent in the current fiscal, the Economic Survey for 2017-18 tabled in the Lok Sabha by finance minister Arun Jaitley on Monday, has said.
The Survey also cited the recapitalisation plan for government-owned banks, the recent easing on foreign direct investment (FDI) rules and boosting of Indian exports amidst a global recovery as other factors underpinning its gross domestic product (GDP) growth projection, which is higher than the 6.5 per cent growth projected by last month by the Central statistics Office (CSO).
"Decisive action was taken to grasp the nettle of the Twin Balance Sheet (TBS) challenge, arguably the festering, binding constraint on Indian growth prospects. On the 4 R's of the TBS -- Recognition, Resolution, Recapitalization and Reforms -- Recognition was advanced further, while major measures were taken to address two other R's," the Survey, authored by Chief Economic Advisor (CEA) Arvind Subramanian, said.
"The new Indian Bankruptcy Code (IBC) has provided a resolution framework that will help corporates clean up their balance sheets and reduce their debts. And in another critical move, the government announced a large recapitalisation package (about 1.2 percent of GDP) to strengthen the balance sheets of the public sector banks (PSBs)," it said.
"As these twin reforms take hold, firms should finally be able to resume spending and banks to lend especially to the critical, but-currently-stressed sectors of infrastructure and manufacturing," it added.
The roots of the NPAs in the Indian banking system, which have reached a staggering nearly Rs 9 lakh crore (almost $142 billion) lie in the boom period during the previous decade under United Progressive Alliance (UPA) rule. The bad loans of state-run banks alone add up to around Rs 7.5 lakh crore.
The Reserve Bank of India has referred to 12 accounts, totalling about 25 per cent of the gross NPAs, for resolution under the new Insolvency and Bankruptcy Code (IBC).
The government has embarked on a two-pronged strategy on bad loans. On the one hand, it has brought in the IBC which provides for a six-month time-bound insolvency resolution process. On the other, it has approved a Rs 2.11 lakh crore recapitalisation plan for state-run banks.
Rating agency Crisil says the banks will need to take a haircut of up to 60 per cent on their bad loans to resolve the NPAs.