Festival drives Indian gold demand; higher prices curb buying elsewhere
Reuters, Bengaluru/Mumbai |
Reuters
Mar 31, 2017 05:12 PM IST
Gold demand in India rose this week due to a festival and as local prices adjusted to an appreciating rupee, while higher prices kept a check on demand elsewhere in Asia.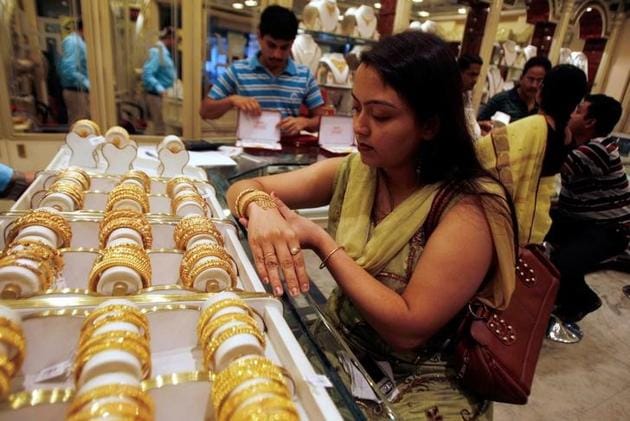 The Gudi Padwa festival, also known as Ugadi in some parts of the country, was held earlier this week. Buying gold during festivals is considered auspicious in the world's second-biggest market.
"Retail demand improved due to Gudi Padwa and a drop in prices," said Mukesh Kothari, director at bullion dealer RiddiSiddhi Bullions in Mumbai.
Dealers in India were charging a premium of up to $1 an ounce this week over official domestic prices. They were charging a premium of $2.00 last week. The domestic price includes a 10 percent import tax.
The demand is likely to remain firm next month due to another festival, Akshaya Tritiya, and the start of the wedding season, Kothari said.
In the local market gold futures were trading around 28,500 rupees per 10 grams on Friday, down 1 percent from a week ago.
The Indian rupee has risen 4.8 percent against the U.S. dollar so far in 2017, partly offsetting gains in overseas gold prices.
"Jewellery demand has been good so far this year, but investment demand is still weak. Investors are more interested in the stock market," said a Mumbai-based gold dealer with a private bank.
In top consumer China, premiums fell to about $8 to $10 an ounce against the international benchmark from levels $10 to $12 last week.
Gold remained steady on Friday with global political uncertainty, the upcoming elections in Europe in particular, seen supporting prices of the yellow metal, driving the metal to its best quarter in a year.
"There is not too much demand in China or Hong Kong ... even in the $1,230 range the market seems not prepared to buy on the physical side," said Ronald Leung, chief dealer at Lee Cheong Gold Dealers in Hong Kong.
Premiums in China had risen early this month as traders said supplies of the precious metal were limited due to tightening import restrictions to stem currency outflows.
Premiums were quoted in a 70 cents to $1 range in Hong Kong, mostly unchanged from last week.
In Japan, traders saw the precious metal at a discount of $1, due to lack of any significant demand.
(Writing by Nallur Sethuraman in Bengaluru; Editing by Greg Mahlich)