Government now eyes profits from increased value of land around big projects
Vandana Ramnani, Hindustan Times, Delhi
Jan 03, 2017 12:46 PM IST
Centre likely to introduce value capture financing model for all infrastructure projects in 2017-2018, including smart cities, railway, roadway, power and industrial corridor projects.
The government wants to profit from the gains in value of land around which metro, high-speed and highway projects are coming up across the country. As state governments also scramble to put in place a transit-oriented development (TOD) policy and plan to allow additional floor space index (FSI - allowing more construction on a plot) for properties located along highways and metros, the Centre is likely to introduce a value capture financing (VCF) model for all infrastructure projects in 2017-2018. This is likely to include smart cities, railway, roadway, power and industrial corridor projects.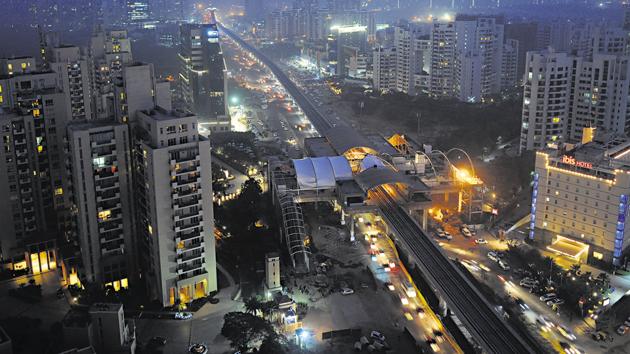 The rationale behind the move is that benefits of increased value of land due to public investments do not go to non-urban areas. Different methods, however, have been used to capture the benefits accruing to private people in urban areas such as impact fees, betterment charges, ready reckoner or circle rates, charges for regularisation of unauthorised development, conversion charges on land etc.
Stay tuned with breaking news on HT Channel on Facebook.
Join Now
Abhilesh Babel, ceo and head of infrastructure advisory, Feedback Infra, says the TOD scheme is one among many for generating revenue from an area benefiting from metro projects. Both Noida, Gurgaon have notified the TOD scheme wherein higher FSI will be provided on both sides of the metro corridors to partly finance the project.
The VCF model, which is likely to be announced by the government in February next year, will apply to all infrastructure projects. This includes large projects such as railways, Delhi Mumbai Industrial Corridor to raise revenues.
The logic behind the VCF model is that with mass transit comes in better connectivity which leads to appreciation in property prices. The model is meant to be used to meet the expenses of development of an area where there is dedicated transit for ease in commute.
The best global example is that of MTR (Mass Transit Railway) Corporation (with 76% government ownership). It has a unique business model , rail plus property, which helps it run on profit. Under the MTR model, the corporation buys land from the Hong Kong government for a pre-railway price, constructs a railway line and develops the land around it - resulting in increased values. It utilises many forms of value capture such as property tax, parking levies. Amit Bhatt from Embarq India says the biggest challenge to implement this model in India is coordination efforts by ­multiple agencies working in states to drive the initiative.
Attempts in Pune to give additional FSI to generate value for the municipality were not successful as there was an oversupply of real estate stock in the market. "Demand and supply dynamics have to be taken into account before implementing VCF," he says.
Also, VCF has worked well only for mass transit corridors, where the aim is to provide mobility and enhance accessibility and not in stand-alone highway projects where there is no job creation or transport for people from one point to another, says Bhatt.
Noida-Greater Noida Expressway is a case in point. It is an excellent connector but values of properties close to it have not improved because investors there outnumber actual users. The upcoming metro is likely to change the dynamics as it will connect more areas and encourage more end-users to settle there, improving land valuations.
VCF is also good starting point for smart cities projects. "If the smart cities projects have an intrinsic proposal around mass transit and aim to revitalise an area but has limited resources, the VCF mechanism can be utilised to generate additional revenues,"adds Bhatt.
Read more Purchasable FAR will create more problems for Gurgaon