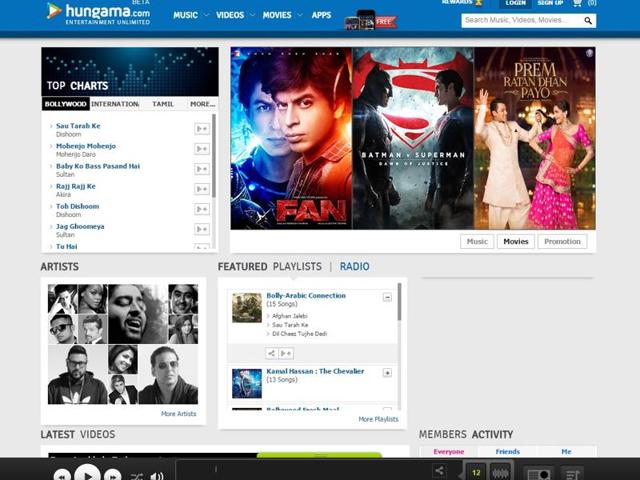 Hungama: From bust to India's largest digital entertainment firm
The company diversified its business after being hit by the global dot com crisis in 2001. Now, it has 67 million users and streams over 10,000 movies
PUBLISHED ON AUG 22, 2016 04:30 PM IST
In 2001 internet businesses around the world started falling apart. Hungama Digital, which streamed Bollywood songs on the internet, too, was struggling.
Neeraj Roy and Hungama's four other co-founders decided to start another business vertical, which would help brands engage with people who were using the internet – there were only a million people using the internet in India at the time.
For example, Hungama built a game for Coca-Cola based on TV commercial starring Hrithik Roshan. "Had we just been a digital media company we wouldn't have been around," says Roy. Later it sold the marketing arm to British advertising firm WPP.
In 2007-08 Roy's company rode on the value-added-service (VAS) boom, when telecom operators sold picture, ringtones, caller tunes and short video clips – Hungama would provide that taking 20-25% of the billed amount as commission.
By the end of 2011-12, most of the six-dozen odd VAS companies died as over-the-top content firms such as Saavn and Gaana emerged. Hungama survived.
It is now India's largest digital entertainment company. In July it had 67.5 million users consuming audio and video through its websites, mobile site and app.
But, Roy's present competitors are bigger and global. American digital channel Netflix's entry into India could upset Hungama's plans. Then there is Star India's digital platform Hotstar, Network 18 has Voot, and Sony has Liv. Telecom operators, too, are not behind. Airtel, Vodafone and Idea Cellular have their own digital content platforms.
Roy is unnerved by competition, not even from Netflix. "We have gone deeper in the entertainment space," he says. Music is the entry point into digital entertainment.
"Hungama is India's answer to Netflix and it is a content company that understood the vibes of the country and delivered on it… Neeraj (Roy) only talks of Bollywood, he only has digital, which is a high-impact, high-outcome strategy," says Sanchit Vir Gogia, CEO and chief analyst of Greyhound Research.
There are over a billion mobile phone users in India, the second largest in the world. India's internet user-base – 300 million at present – is the fastest growing in the world.
Contrast that with television – there are 170 million homes with TVs, which will grow to 190 million in the next couple of years. Internet users will touch 600 million by 2020.
Hungama's sweet spot is that 50% of data consumption happens over video, Bollywood taking up the largest pie of it. But, just being a large global digital company isn't enough.
Netflix started in India with 69 Indian movies. Hungama has 8,500 – 3,500 of them in regional languages. "Only 52% of total box office is made up of Hindi cinema, 34% is of the four south Indian languages," says Roy.
He hasn't neglected international content, either. Hungama has 2,500 international movies. He has also taken a page from Netflix's playbook – original and exclusive episodic content, mainly for male audience, as most of the television episodes are women oriented. By the end of the year there will be six such series.
Hungama makes money through weekly or monthly subscriptions and pay-per-video or audio. He has also partnered with banks where users can buy content using loyalty points earned on their debit and credit card. "Our task is to move the internet users from browsing to making transactions," says Roy.
Roy is also betting on the offline internet, which allows users to download songs and movies and own them forever. And throw in analytics, so if you have booked a flight ticket from your mobile, Hungama knows that a two-and-half hour flight is coming up, and recommends movies based on your past browsing habit.
Roy says that this is just the beginning. There will be many more segments – kids beings one, where there are already 2,400 titles. And to on top of this there will be a multi-channel payment eco-system. "We will create new ways for customers to pay for content," says Roy.
Close