I could be doing a far less stressful job for far more money: Infosys CEO
Updated on Nov 21, 2016 08:41 AM IST
Infosys CEO Vishal Sikka talks to HT on transforming Infosys, his wonderful relationship with the company's fabled founders, and why he would rather do this job than any other despite the stress. Excerpts from an edited interview.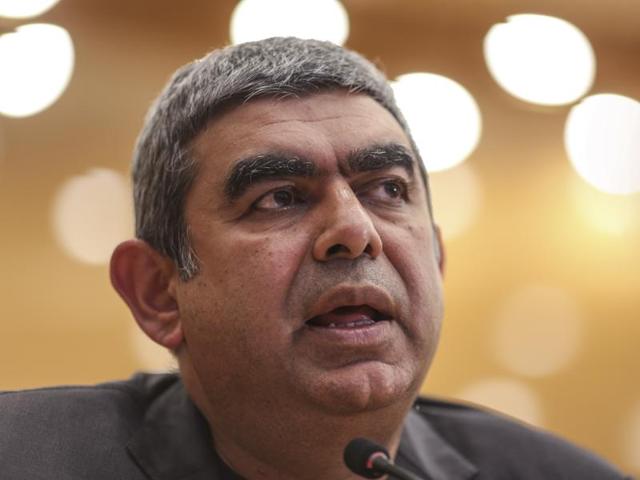 Hindustan Times |
Suveen Sinha and Kalyan Subramani
Infosys CEO Vishal Sikka talks to HT on transforming Infosys, his wonderful relationship with the company's fabled founders, and why he would rather do this job than any other despite the stress. Excerpts from an edited interview.
Have your grayed more after joining Infosys?
My health has suffered for sure. It is a very complex transformation we are doing, far more complex than people understand
The way we understand it is that from a people-centric businesses you are making it completely different, which is automation, artificial intelligence (AI), cloud, and all the other things you talk about.
Yeah, transformation from a cost-based idea to an innovation- and value-based idea. It is no longer enough to do things that were happening before because they are cheaper, because that doesn't work anymore. See, in the past the way our industry has grown... price is by far the criteria. That kind of work is going to be more and more automated, with the advances in AI. We have to be people who can innovate, who can come up with new ideas, who can help clients solve their real problems. The way out of the innovator's dilemma is you squeeze your high-margin, successful cash-cow business to fund new things. This doesn't apply in our case, because our main business is the one under margin pressure.
So you don't have the elbow room to squeeze money from there to fund new initiatives.
It is a heck of a challenge.
On top of that you have not been kind to yourself, setting stiff targets.
What is the point of a target if it is not stiff? One of my friends used to joke that his teacher said he set the bar very low and did not make it. Life is too short to go after goals that are easy to achieve. What do you gain from that?
But there is so much talk around your targets, especially the $20 billion in revenue by 2020-21 ($9.5 billion now), 30% margin (25%), $80,000 revenue per employee ($52,000).
I set that up as an aspiration. A financial goal cannot be a goal. It has to be a consequence of the work we do. You can only connect the dots by looking backwards. So this $20 billion, 30%, $80,000 an employee is an aspiration we have. If we are able to bring in the automation and innovation culture, and are able to do next-generation technologies in software development to seed these improvements, then we will get to that kind of...
Read | First 'outsider' CEO Sikka gets down to turning around Infosys
So the numbers are a filter through which you see your work and processes.
Exactly. The plans you make are for the time in front of you.
There were reports your salary was linked to the $20 billion target.
That is something you have to ask the board. It is based on some kind of a curve....I don't want to comment on that. I am not assigning myself my salary. If I was, I would do it very differently (laughs). You can ask me about other people's salary, not my own. The thing I would like to say is that the cash component is actually lower than it was before. And the additional parts are deeply linked to the shareholders' interest.
Why was that done? Do I need to ask the board about that, too?
You can ask the board why it was done. But obviously you want everyone's compensation aligned with the interests of the shareholders.
Are you happy you took this job?
(Long pause) Earlier today, somebody asked me this question. Are you happier now than you were two and a quarter years ago? The answer to that is no, I am not. Am I less happy than I was two and a quarter years ago? No, I am not. So it is the same.
It has to be a stressful job. The transformation you are talking about is immense. And then there are all these things like your salary being a topic of public discussion. Don't you feel sometimes why do I have to do this? I was fine where I was.
It is true that I could be doing a far less stressful job for far more money much more easily. There is no doubt about that. Now we have to create a culture of outrunning and leveraging automation. But I had a discussion with a famous industry leader in India. He said to me, "Vishal, beyond the revenue and margin and profits, just remember that parents in this country raise their children dreaming that they will work for Infosys."
The DNA of Infosys needs to change.
Not really. Mr Murthy (N R Narayana, Infosys founder and first CEO) always talked about "learnability". Somewhere along that got diluted a little bit, but we have resurrected that. As long as we have the ability to learn we can do this. We can learn automation and we can learn innovation. We have close to 10,000 projects and we have created this mindset that in every project you will find something innovative. Today one of our teams presented a sales estimation tool that improved the ability to forecast sales by 5%. That's a dramatic productivity jump for sales people. To watch regular Infoscions do this kind of a thing... So it is already happening. If you look at the customer satisfaction scores that came out... Overall our customer satisfaction is at a 10-year high. It reflects the fact that a deep-rooted transformation is happening. I think that counts for a lot.
For the longest time, Infosys was not known for cutting-edge work.
Yes, absolutely. It is necessary to go through the shift. We have this Principle of One -- you should do the thing only once. Once it has been done, the second time around a person should not do it. The second time around, a machine should do it. Creating a culture like that is a daunting challenge.
Communicating with people is equally important, to tell them there is no alternative.
We communicate with them. People have to see what is happening. When I used to talk about this two years ago, people used to ask, "What is he talking about? What is he seeing nobody else is seeing?" Now, of course, everybody speaks the same language. It's quite amazing.
Read | Won't sack employees in RBS project, will redeploy them: Infosys
Are the founders speaking the same language? You said you meet Mr Murthy pretty regularly. Do you communicate these changes with him?
We are not supposed to talk about any material or price-sensitive information. I meet him four to five times a year, whenever it is possible. I met him a few months ago in London. He actually told me, "Vishal, I was reading some of your interviews and what you are trying to do is to convert us from reactive problem solvers to proactive problem finders." I said, "Mr Murthy, this is such a beautiful way of saying it. Can I use it?" He said, "Of course, you can."
There are reports that founders are not happy with you.
I have no idea where that comes from. I was in a flight with Kris (Gopalakrishnan, another founder and former CEO) recently and I meet Mr Murthy. I don't see that. I have a wonderful relationship with them. Beyond that, what can I say? People have a lot of time on their hands.
So there is no chance of you being the next Cyrus Mistry?
Oh my God. (Pause) I don't want to comment on that. (Pause) That's not a fair question. These are very serious things we are doing.
Mr (D N) Prahlad joining the board will be a boost to you, isn't it? He is very deep into technology.
Yes. When I first talked to him I was driving home from the San Francisco airport. I did not know him, obviously. But within 10 minutes we were completing each other's sentences. It was incredible. So even though he left Infosys some 20 years ago, he actually used to work on some of the things we are now working on, like bringing automation into work, packaging up the services.
Read | Vishal Sikka vs Abidali Neemuchwala: A tale of two CEOs
Would you look at other board members of that kind? Would you like Mr. Nandan Nilekani (another founder and former CEO) to join the board?
You know I don't appoint board members.
True, but all CEOs work with and guide the board.
He categorically told me, when I started, he does not want to....but you will have to ask him, I don't want to answer on his behalf. I have a wonderful relationship with Nandan.
Personalise your news feed. Follow trending topics