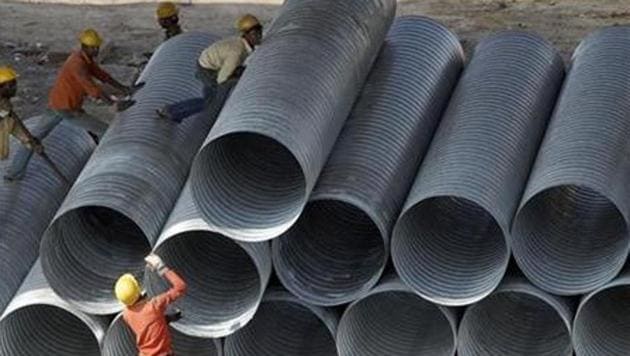 Cabinet approves policy for preferring domestic steel for govt's infrastructure projects
The policy will help foster Prime Minister Narendra Modi's flagship Make in India initiative
Hindustan Times, New Delhi | By Raj Kumar Ray
UPDATED ON MAY 04, 2017 10:59 AM IST
The Union cabinet on Wednesday approved a policy that will prefer the sourcing of domestic iron and steel for infrastructure projects being built by state-owned companies, in a move aimed at shielding the sector from the onslaught of dumping of cheaper metals by countries such as China.
The policy will help foster Prime Minister Narendra Modi's flagship Make in India initiative.
India's steel output is now at around 126 million tonne. The country is aiming at raising the output to 150 million tonne by 2020, as the Modi government has rolled out an ambitious plan to speed up infrastructure projects including smart cities, industrial corridors and highways.
"The Steel Policy 2017 will give a concrete shape to the future plans and policies for steel industry in India," said steel minister Chaudhary Birender Singh.
"We have taken a holistic and comprehensive view of the steel sector in India and its key growth drivers to ensure sustainable growth of all segments of the industry. Thrust areas in the Policy include raw material securitization, import substitution, increasing production efficiency and enhancing steel consumption," he said.
China accounts for half of the world's steel capacity of 1,600 million tonne (MT) per year and a slowdown in world's second largest economy has prompted dumping of the cheaper metals in other countries.
China is aiming to shed 150 million tonne of excess capacity between 2016 and 2020. It also plans to shut around 100 million tonne of low-grade steel production by the end of June.
India has been trying to protect its industry by imposing minimum import price (MIP), safeguard and anti-dumping duties on imported steel.
The policy mandates preference to domestically manufactured iron and steel products in government procurement. "The policy is applicable on all government tenders where price bid is yet to be opened," the release said.
The policy provides a minimum value addition of 15% in steel products, which are covered under preferential procurement.
In order to provide flexibility, Ministry of Steel may review specified steel products and the minimum value addition criterion.
There are provisions in the policy for waivers to all such procurements, where specific grades of steel are not manufactured in the country, or the quantities as per the demand of the project cannot be met through domestic sources.
The policy is envisaged to promote growth and development of domestic steel Industry and reduce the inclination to use, low quality low cost imported steel in government funded projects. It shall be the responsibility of every government agency to ensure implementation of the policy.
Close