India Q3 GDP growth seen slowing to about 6% on demonetisation
Hindustan Times |
Raj Kumar Ray
Mar 05, 2017 06:40 AM IST
The demonetisation drive may have slowed India's economic growth to about 6% or lower during October-December from 7.3% in September quarter.
The demonetisation drive may have slowed India's economic growth to about 6% or lower during October-December from 7.3% in September quarter.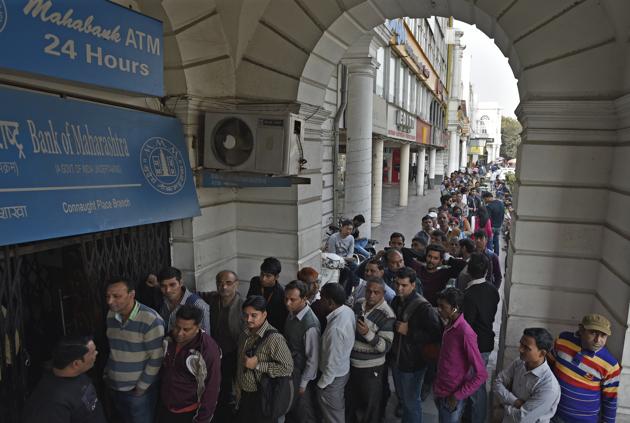 While a Reuters poll of 30 economists forecast Q3 GDP growth at a 3-year low of 6.4%, some analysts fear a sharper slowdown to less than 6%.
The actual number could be even lower given the CSO numbers will not capture the output of small businesses immediately.
An upward revision in 2015-16 GDP numbers will also have an adverse statistical base effect on Q3 numbers.
"We are projecting the Q3 GDP growth at 5.8%. Some of the manufacturing sectors including consumer goods, coupled with construction and trade has been impacted die to the demonetisation. We also have to factor in the upward revision in GDP numbers for 2015-16," said Soumya Kanti Ghosh, chief economic advisor at the State Bank of India.
Care Ratings chief economist Madan Sabnavis sees growth to slow as much as 5.4% in Q3 and to 6.75% for full fiscal year 2016-17, as note ban dampened activity in manufacturing as well as services sectors. "Agriculture will continue to do well," he said.
Soon after Prime Minister Narendra Modi's historic announcement to scrap old Rs 500 and Rs 1,000 notes to curb the menace of black money, graft and terror funding, analysts including at the Finance Ministry and Reserve Bank of India have lowered the GDP projection for 2016-17.
Analysts also point out there has been a across the board revision in the growth numbers.
India's GDP grew by 7.1 per cent in April-June and 7.3% in July-September, making the country among the fastest growing among major economies.
The Finance Ministry's Economic Survey lowered economic growth to as low as 6.5% in 2016-17 from 7.9% in 2015-16. However, growth is expected to rebound to 6.75-7.50% in 2017-18, says the survey authored by the government's chief economic adviser Arvind Subramanian.
The International Monetary Fund, which has repeatedly endorsed India as a "bright star" in the global economy, recently slashed India's growth projection by a percentage point to 6.6% for 2016-17 citing the impact of scrapping of old Rs 500 and Rs 1,000 notes on the economy.
The slowdown in growth could be gauged by the sharp fall in December purchasing managers index to less than 50, which indicates a decline in output, and the contraction in the index for industrial production (IIP) by 0.4%.
The October and November PMI were on positive zones which might offset some of the adverse impacts on December.
A slowdown in GDP growth may not prompt the Reserve Bank of India to lower rates immediately, analysts said.
"We expect pause on rates in the next 2-3 policies till September," said Ghosh of SBI.
Care's Sabnavis however expect 50 bps cut in rates in 2017 depending on how inflation plays out.
RBI, which has paused at its December and February policy reviews, has lowered policy lending rate repo by a total 175 bps since 2015 to spur demand and growth. The repo rate is now at 6-year low of 6.75%.
The government has lowered tax rates by 5 percentage points to 25% for small firms and stepped up spending in the Budget for 2017-18.