India Q3 GDP grows 7% despite demonetisation, analysts frown
Analysts point to flaws in the GDP calculations, saying it does not factor in the informal sector, which was the worst hit post-demonetisation.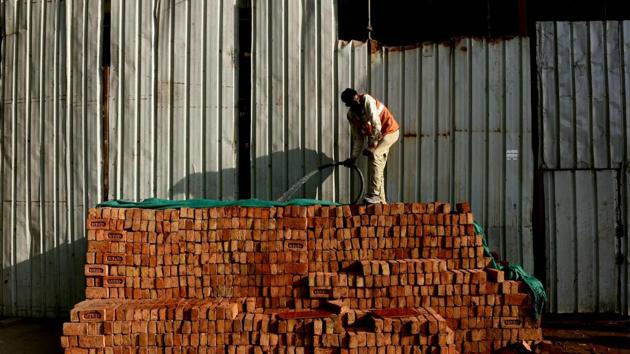 Updated on Mar 02, 2017 05:25 PM IST
Hindustan Times, New Delhi |
Raj Kumar Ray
India's economic growth slowed marginally to 7% in October-December from 7.4% in the previous quarter, government data showed on Tuesday, raising eyebrows among experts and economists.
The Central Statistics Office (CSO) also retained the advanced estimate for 2016-17 at 7.1%, which is lower than 7.9% of 2015-16, but higher than what most economists have predicted in view of the crippling effect that demonetisation has had on consumption and investment.
The Q3 GDP growth estimate beat analysts' expectation of 6.4%. Some had even projected the growth to slip below 6%.
Analysts point to flaws in the GDP calculations saying it does not factor in the informal sector, which was the worst hit after the government scrapped Rs 500 and Rs 1,000 notes in a surprise announcement on November 8.
The government's chief statistician TCA Ananth declined to comment on the factors behind the robust estimates for Q3. "We will look for more data to assess the impact of demonetisation," he said.
While acknowledging that, in the absence of adequate data, it is hard to accurately capture the impact of decisions such as demonetisation, economic affairs secretary Shaktikanta Das said the GDP numbers negate the downward projections made around note ban.
Pessimistic forecasts from analysts and economists leaned on evidence such as the sharp fall in December purchasing managers index (PMI) to less than 50, which indicates a decline in output. Also, car sales slumped and factory output contracted 0.4% in December.
A senior Congress leader and a former minister in the previous UPA government questioned the government's claim, saying "who believes those numbers".
"The GDP numbers do not adequately capture the output of the informal sector. So it (Q3 GDP growth) appears to be on the higher side. There is a strong likelihood that the numbers may be revised down later," said Rupa Rege Nitsure, the ?Group Chief Economist at L&T Finance Holdings.
Some economists pointed to growth in alternate channels like ecommerce during the note ban.
"It is a positive surprise. Demonetisation did impact construction, real estate and trade sectors. Since the CSO now collate data from profit and loss accounts of companies, many of the SME and informal sector is left out," said Madan Sabnavis, chief economist of Care Ratings.
Some of the alternate channels line e-commerce has seen a spurt during demonetisation, which has offset the fall in output in sectors like trade, he said.
What has also driven the GDP growth is agriculture sector that grew 6% during October-December as compared with a 2.2% fall in the same quarter of last year and 3.8% in July-September.
Manufacturing output slowed to 8.3% from 12.8% in the same period last year.
During Q3, mining was up 7.5%, electricity 6.8% and construction 2.7%.
Among the services sector, the trade, hotels, transport and communication was up 7.2% while financial sector grew 3.1% and public services 11.9%.
Industry body Ficci said the consumption activity is gradually picking up and the effect of demonetisation is expected to wane off by June 2017.
"It is extremely critical to push the domestic capex cycle which has been persistently weak. We are hopeful that going ahead the planned increase in public expenditure, will crowd in private investments. We also look forward to a further reduction in lending rates by the banks. This will help boost consumption and prop-up investments through low-cost finance", said Didar Singh, Secretary General of FICCI.
India's GDP grew by 7.1% in April-June and 7.3% in July-September, making the country among the fastest growing among major economies.
The Finance Ministry's Economic Survey lowered economic growth to as low as 6.5% in 2016-17 from 7.9% in 2015-16. However, growth is expected to rebound to 6.75-7.50% in 2017-18, says the survey authored by the government's chief economic adviser Arvind Subramanian.
The International Monetary Fund, which has repeatedly endorsed India as a "bright star" in the global economy, recently slashed India's growth projection by a percentage point to 6.6% for 2016-17 citing the impact of scrapping of old Rs 500 and Rs 1,000 notes on the economy.
RBI has paused on rates in December and February but has lowered policy lending rate repo by a total 175 bps since 2015 to spur demand and growth.
The government has lowered tax rates by 5 percentage points to 25% for small firms and stepped up spending in the Budget for 2017-18.
Close Story
Personalise your news feed. Follow trending topics