Not much relief for govt in CPI data
Falling food inflation and stagnant core inflation could pose dual challenge for government in an election year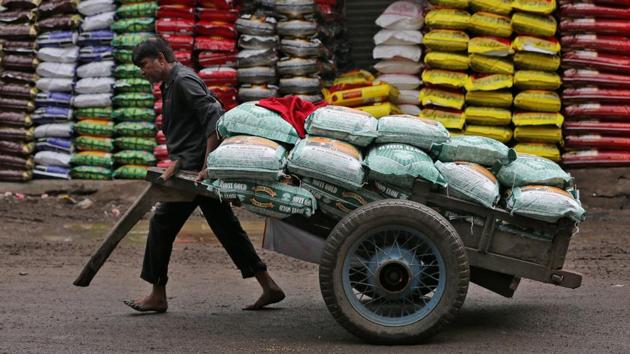 Updated on Sep 15, 2018 03:48 PM IST
India's benchmark inflation measure, the Consumer Price Index (CPI), grew 3.69% in August 2018, the lowest since November 2017. At a time when the rise in fuel prices has been one the government's biggest worries on the economic front, these numbers should have been music to the ears of its economic managers. This is unlikely to be the case.
Much of the decline in CPI is due to the fall in food inflation. Food and beverages alone have a weight of 46% in the commodity basket which is used to track CPI. This value is only 7% for the fuel and light group. A look at disaggregated inflation trends shows that core-inflation (excluding food and fuel groups) continued to remain high. To be sure, it has shown some decline in the past couple of months. Non-core inflation has fallen sharply. Given the fact that fuel prices have been increasing, this is a result of a disproportionate fall in food prices. (See Chart 1)
This becomes clearer by looking at individual sub-components of the food-group in the CPI. Among the five major sub-components of the food group: cereals, milk and milk products, vegetables, oil and fats, and pulses, only oil and fats group shows an increase in inflation in the recent period. This is probably a result of the depreciating rupee as India has large import dependence for edible oil. For pulses and vegetables, prices have actually been declining instead of increasing. Inflation in milk products has also been going down in the recent past, which explains the recent agitations by dairy farmers. The only item which shows a rise in inflation this year is cereals, which is likely to be a result of the larger than usual rise in minimum support prices (MSPs) by the government.
The overall trend of decline in food inflation is in keeping with the worsening terms of trade for agriculture, as was pointed out in an earlier story by this author.
Terms of trade for can be roughly described as ratio of prices received and paid by producers in a given sector. Agriculture's GDP deflator is the difference between the rates of growth of gross value added (GVA) in agriculture at current prices and constant prices. Quarterly trends in food inflation and agriculture's GDP deflator seem to have been moving down in tandem during this government's regime. ( See Chart 2)
A decline in headline inflation numbers via decline in food inflation and the stickiness of core inflation is bound to put more squeeze on those who draw their livelihood from agriculture.
Also, the Reserve Bank of India is likely to pay more attention to trends in core-inflation while deciding on policy rates. Such a trend – falling food inflation and stagnant core inflation – can be double whammy for a government in an election year: angry farmers and fears of yet another hike in interest rates, raising costs of doing business for the industry.
Close Story