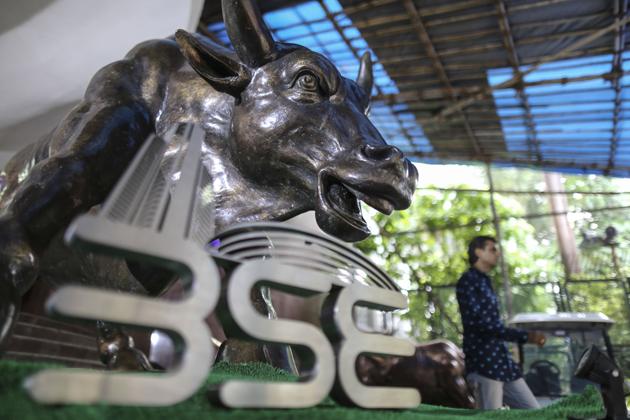 Sensex surges 570 points as RBI keeps rate unchanged, lowers inflation forecast
The BSE Sensex, which had gained nearly 400 points in opening trade, made further headway to settle the day 577.73 points, or 1.75% higher at 33,596.80.
UPDATED ON APR 05, 2018 04:08 PM IST
Indian equity benchmark BSE Sensex surged 577 points to end at 33,597 on Thursday, after the RBI kept its key policy rate unchanged, and lowered inflation forecast for the first half of FY19.
The central bank kept the interest rate unchanged at 6% for the fourth consecutive time since August last year, but lowered retail inflation projection for the first half of current fiscal to 4.7-5.1% and 4.4% for the second half.
The repo rate, at which the central bank lends short-term money to banks, will continue to be 6%. The reverse repo rate, at which it borrows from banks and absorbs excess liquidity, will remain 5.75%
The Reserve Bank also said India's economic growth rate is expected to strengthen to 7.4% in the current fiscal, from 6.6% in 2017-18, on account of revival in investment activity.
The BSE Sensex took off on a positive note at 33,289.96 and advanced to the day's high of 33,637.46 before ending at 33,596.80, up 577.73 points, or 1.75%.
This is its biggest single day gain since March 12 when it had rallied 610.80 points. The gauge had lost 351.56 points in the previous session.
The NSE Nifty, after shuttling between 10,331.80 and 10,227.45, finally settled 196.75 points, or 1.94 points higher at 10,325.15.
The markets also cheered the 'normal" southwest monsoon forecast by private weather forecasting agency Skymet.
Positive global cues as trade war worries between the US and China faded too bolstered trading sentiment.
Close