Tata Sons may use
₹

12,603 crore TCS windfall to cut debt

The Mumbai-based conglomerate is expected to get at least

₹

11,502 crore from the 54.7 million shares of TCS that it plans to tender in the share buyback.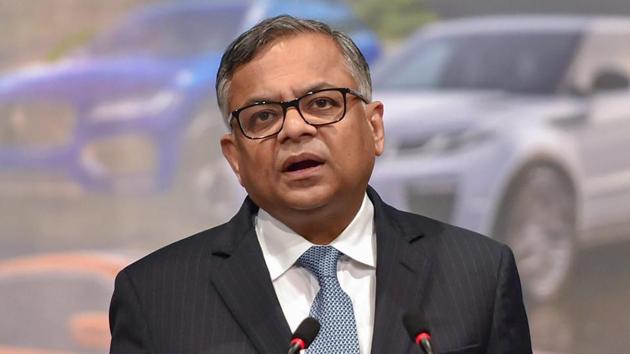 Updated on Sep 05, 2018 07:59 AM IST
Livemint, New Delhi/Mumbai |
Varun Sood and Amrit Raj
Tata Sons Ltd is set for a windfall of as much as ₹12,603 crore from Tata Consultancy Services (TCS) Ltd through share buybacks and dividend income in the first half of the financial year, funds that chairman N Chandrasekaran can use to pare debt in several group companies, a Mint analysis shows.
The Mumbai-based conglomerate is expected to get at least ₹11,502 crore from the 54.7 million shares of TCS that it plans to tender in the share buyback. Tata Sons has already got about ₹1,100 crore as dividend for the first quarter.
Tata Sons got ₹24,760 crore by tendering shares in a buyback and dividend from India's largest information technology outsourcing company in the previous year.
Tata Sons could use the proceeds to retire debt at some of its group firms, including Tata Motors Ltd and Tata Teleservices, three analysts said.
The move is part of Chandrasekaran's ongoing efforts to cut debt and make the group more agile but it also exposes the group holding company's overdependence on TCS, which he led in his previous role. "There is a pressing need to reduce debt in Tata Power, Tata Steel and Tata Motors (about ₹2.3 trillion in total). They could use this money in the form of additional equity in any of these indebted companies," said the first analyst at a Mumbai-based brokerage firm, requesting anonymity.
"Last year, Tata Sons used much of the money got from selling shares (of TCS) and from a buyback in reducing the debt of its telecoms business and also in making the payments due to DoCoMo," another Mumbai-based analyst at a foreign brokerage said on condition of anonymity. "This year's proceeds should be used for retiring debt of Tata Motors." "Both Tata Steel and Tata Motors, with large capex requirements, should see capital infusion," said a third Mumbai-based analyst at a domestic brokerage. "TCS giving back money to shareholders is actually good for minority shareholders. And because Tata Sons holds more than 70% stake, it is the largest beneficiary. Now, TCS is doing well, so it's always debatable how else could the company have used the cash—either in investing more in its existing business or to buy companies."
An email sent to Tata Sons seeking comment remained unanswered till press time.
"I really don't know what Chandra is doing from a larger perspective. But, it is clear that he is essentially fighting the debt problem and leading the fire fighting in some of these companies," the first analyst cited before said.
"TCS has been their story for the last decade or so. TCS has been shining while others have been growing but that growth is fuelled to an extent by debt and one such example is Tata Steel. They had to take an urgent action to reduce debt by selling Corus to Thyssenkrupp," the first analyst said. Chandrasekaran, who took over as chief executive of Tata Sons in February 2017, has inherited a set of companies that had been under pressure for a while (including Tata Motors' domestic business), an unstable leadership team in the interim period after the ouster of Cyrus Mistry, a legal dispute involving NTT DoCoMo, the troubled operations of Tata Steel in Europe and the never-ending debate over Nano.
Close Story
Personalise your news feed. Follow trending topics