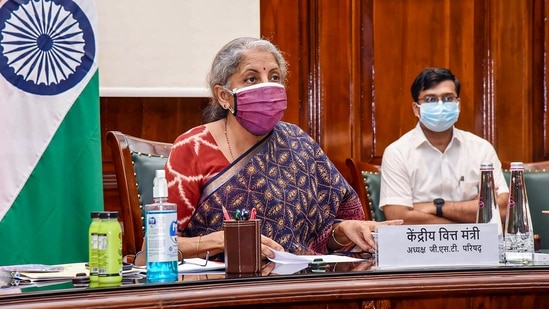 Covid-related equipment extended tax exemption at GST council meet
GST relief for MSME, can file pending returns with reduced late fees, says finance minister Sitharaman
UPDATED ON MAY 28, 2021 08:42 PM IST
Finance minister Nirmala Sitharaman on Friday announced that the following the 43rd Goods and Services Tax (GST) Council meeting it has been decided to exempt Integrated Goods and Services Tax (IGST) on free Covid-19 related supplies till August 31 this year. The GST council also left taxes on Covid-19 vaccines and medical supplies unchanged. Vaccines attract 5% GST currently.
"The council has decided to exempt the import of relief items, even if they are purchased or donated to the government or recommended by the state authority. The exemption has been extended till August 31, 2021," Sitharaman said. Sitharaman further announced that the medicine Amphotericin B required to treat mucormycosis has also been added to the exemption list following rising number of cases.
Sitharaman also announced that said that medium and small industries can file their pending returns with reduced late fees at a press conference following the 43rd GST Council meeting. The finance minister called the decision as one of the important decisions taken during the meeting and said that an amnesty scheme has been introduced where taxpayers can file their pending returns and avail its benefits with reduced late fees.
"One of the biggest decisions taken today is reduction of compliance burden of small taxpayers and medium-sized taxpayers. Late fees, amnesty-related matters also were decided upon. In order to provide relief to small taxpayers, an amnesty scheme has been recommended for reducing late fee payable in these cases," the finance minister said.
"The rationalised late fee and the decision to reduce the maximum amount of late fee for small taxpayers will come into effect for future tax periods. This will provide a long term relief to small taxpayers," she further added.
During the GST Council Meet, the finance minister also said that ₹4,500 crores were paid to two vaccine manufactures as an advance payment and the country is engaging with suppliers as well as manufacturers. She said India is in discussion with the European Union as well regarding procurement of vaccines and said that production will increase in the coming months.
Close