'New initiatives...': In 1st Parl speech Murmu praises govt for defence exports
Jan 31, 2023 12:54 PM IST
In October last year defence minister Rajnath Singh had said the Narendra Modi government will target defence exports worth $5 billion and an overall production turnover of $22 billion by 2025.
India's defence exports have 'increased by six times... as a result of new initiatives' by the Narendra Modi government, president Droupadi Murmu said Tuesday during opening remarks of the Parliament's Budget session.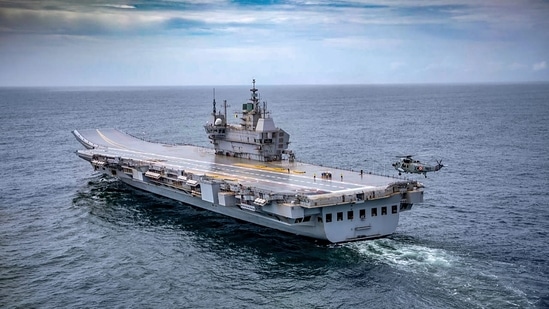 "I am proud that today the first indigenous aircraft carrier - in the form of INS Vikrant - has also joined our Navy," the president also said.
READ | What Murmu said on Art 370, triple talaq in 1st Parliament address
Murmu was addressing a joint sitting of Parliament - her first budget session speech since she became only India's second female head of state - before union finance minister Nirmala Sitharaman presents the Economic Survey.
Sitharaman will on Wednesday present the government's annual budget.
READ | Murmu's 1st Parliament speech focuses on Amrit Kaal, development
The government's focus on an 'aatmanirbhar' defence sector is meant to ensure India is self-reliant in the development and manufacturing of arms and ammunition, fighter planes, warships and other equipment for the military.
The government, defence minister Rajnath Singh said in August last year, also hopes to make India a net defence exporter.
"By the end of this decade India will not only make defence equipment for itself... but also fulfil needs of friendly countries. 'make in India, make for the world' is the new mantra..." he said.
In October the minister said the government will target defence exports worth $5 billion and an overall production turnover of $22 billion by 2025.
"Government making efforts to take domestic defence production from $12 billion to $22 billion by 2025. We may even surpass target of $22 billion."
"There is no dearth of opportunities in the defence sector."
READ | India targeting $5 billion exports by 2025, says Rajnath
Headlining the 'aatmanirbhar' push is India's first indigenously built aircraft carrier - INS Vikrant - which was inducted in September last year and will fortify the country's expeditionary force capabilities in the Indo-Pacific.
READ | Aircraft carrier INS Vikrant to project dominance in Indo-Pacific
INS Vikramaditya - India's first carrier - is undergoing major refitment.
With input from ANI