Rupee recovers from 29-month low, up 39 paise to hit 67.63 vs dollar
The rupee on Friday regained 39 paise to 67.63 on fresh selling of dollars by exporters and banks.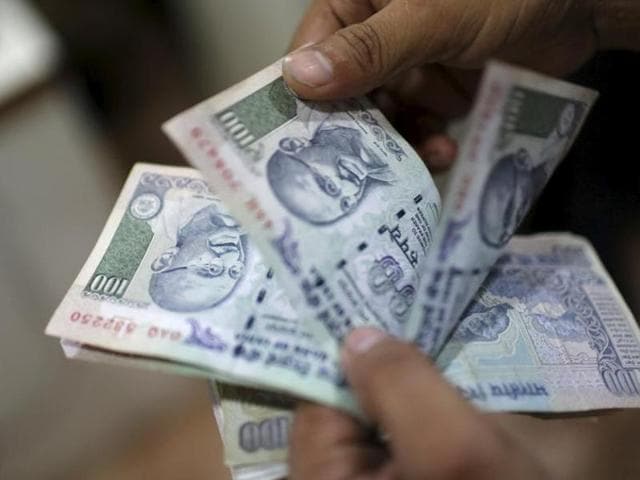 Updated on Jan 22, 2016 07:28 PM IST
Recovering from its 29-month lows, the rupee on Friday regained 39 paise to 67.63 on fresh selling of dollars from banks and exporters on the back of recovery in equities despite higher greenback overseas.
The domestic unit resumed higher at 67.80 per dollar as against Thursday's 29-month closing level of 68.02 at the Interbank Foreign Exchange (Forex) market.
Later, it strengthened further to 67.61 per dollar before ending at 67.63, showing a gain of 39 paise or 0.57%.
The domestic currency had dropped by 37 paise or 0.55% in previous two days.
The domestic unit hovered in a range of 67.61 and 67.84 during the day.
However, the dollar index was higher 0.13% against a basket of six currencies in late afternoon trade.
Overseas, the dollar was higher against the euro and the yen in late Asian trade today as investors shed caution following signs that the European Central Bank may provide more stimulus and after a sharp recovery in Tokyo stocks.
Investors are trying to push ahead with dollar purchases, emboldened by improving market sentiment--a move pushing up the dollar against yen and pulling down the euro against the dollar.
Meanwhile, the benchmark Sensex recovered by 473.45 points or 1.98% on Friday.
Pramit Brahmbhatt, CEO of Veracity Financial Services, said, "As expected, the rupee took cues from domestic equity market as we saw cherish mood here along with global equity market. Nifty too closed with a smart gain of 145 points, thus by strengthening the rupee. Thus the rupee closed with a remarkable gain of 39 paisa at 67.63 levels, maintaining cap of 68 level."
Trading range for spot USD/INR pair is expected to be within 67.4 to 68 levels.
In forward market, premium for dollar declined further on sustained receivings from exporters.
The benchmark six-month premium payable in June fell to 181-183 paise from 183-185 paise yesterday and forward December 2016 contract also declined further to 390-392 paise from 391-393 on Thursday.
The RBI fixed the reference rate for the dollar at 67.7480 and for the euro at 73.4050
In cross-currency trades, the rupee fell against the pound sterling to finish at 96.56 from 96.17 while it ended higher against euro at 73.22 from 74.16.
The domestic currency rose further against the Japanese yen to settle at 57.17 from 58.17 per 100 yen on Thursday.
Close Story
Personalise your news feed. Follow trending topics