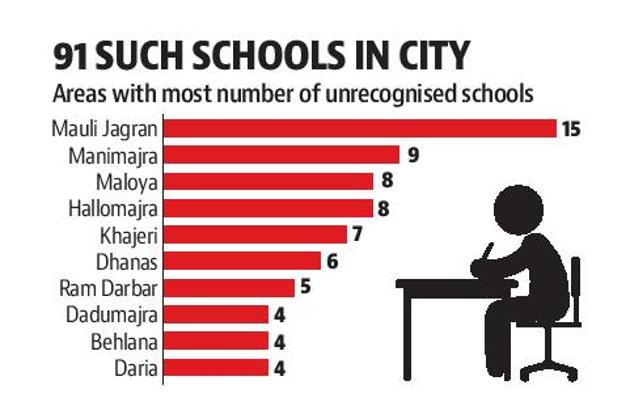 30 unrecognised schools in Chandigarh to get provisional registration
UT adviser Manoj Kumar Parida on Monday issued directions to the UT education department to constitute a committee for the purpose
PUBLISHED ON FEB 18, 2020 12:59 AM IST
Chandigarh: At least 30 unrecognised schools in villages and colonies of Chandigarh are set to get provisional registration. UT adviser Manoj Kumar Parida on Monday issued directions to the UT education department to constitute a committee for the purpose.
In a meeting of the education department, chaired by Parida and attended by home secretary Arun Gupta (who is also the educational secretary) and director of school education Rubinderjit Singh Brar, it was decided that unrecognised schools would be examined on case-by-case basis. Provisional registration would be given where major violations are not present.
"In order to protect the interests of students, the education department would be giving ad hoc registration to 30 to 40 unrecognised schools, which don't have major violations, such as flouting of fire-safety norms," said Parida. "I have instructed the home secretary and director, school education, to start the process immediately by setting up a committee to examine each school on case-by-case basis. I have asked the department officials to take a liberal view while granting provisional registration to these schools."
What's the issue
There are 91 unrecognised schools, having more than 20,000 students, in the city's villages and peripheral areas. These schools operate in residential areas, in small houses, without playgrounds or libraries. They are denied recognition by the education department because they don't fulfil the minimum quality standards of infrastructure and education, such as teacher-pupil ratio, disaster preparation, fire-safety norms, standards of curriculum and land allotment agreement.
The administration move to give provisional registration to such schools has come after MP Kirron Kher intervened in the matter. Kher, it is learnt, asked the administration to look into the issue and take steps to mitigate students' problems. A delegation of the schools' representatives also met Parida on Monday.
On schools where minimum requirements are not met, Parida said: "They will be asked to first upgrade their facilities and meet norms before their case could be examined."
In April last year, the UT education department had started an inspection of unrecognised schools in the city for the second time. The department had earlier inspected these schools in January 2018 but had failed to act on the inspection report.
In November last year, Parida had asked the education department to "name and shame" unrecognised schools to make parents pull their children out of there. The list of 91 unrecognised schools was put on the department website for the first time. The page also informed parents about 10 government schools that they could opt for instead.
Close