AAP leaders endorse Arvind Kejriwal, deny rift in party
Mar 31, 2015 01:50 PM IST
The cycle rally by Aam Aadmi Party (AAP) leader HS Phoolka from Ludhiana concluded at Matka Chowk here on Monday.
The cycle rally by Aam Aadmi Party (AAP) leader HS Phoolka from Ludhiana concluded at Matka Chowk here on Monday.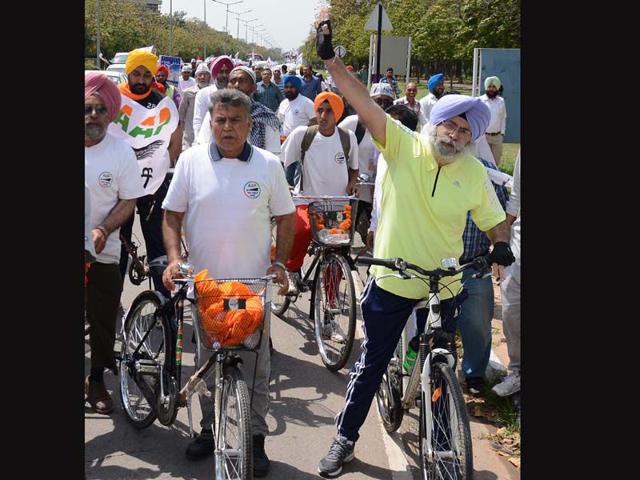 From Kharar, AAP national executive member and Haryana leader Naveen Jaihind and party convenor Sucha Singh Chhotepur joined the rally, aimed at highlighting problems of Punjab and the alleged misrule by the SAD-BJP regime.
Jaihind, who had contested the Lok Sabha polls from Haryana, underlined that while chief ministers of both Punjab and Haryana "use a large number of vehicles with red beacons", the CM of Delhi, Arvind Kejriwal, "uses a single vehicle without any red beacon and saves money of taxpayers".
He further said that soon a meeting with volunteers of Chandigarh would be held to address problems of the city. "Chandigarh will get its official team soon so that the party's working in the city takes place more smoothly," he added.
AAP's 2014 LS candidate from Chandigarh, Gul Panag, was absent at the rally, and so were many other local unit members. Panag, when contacted, simply said she was "tied up with some personal commitments".
Talking on the recent rift in the party where both Yogendra Yadav, Prashant Bhushan were shown the door, Chhotepur maintained that he and other members of AAP are with their support for Arvind Kejriwal.
Speaking on the occasion he said, "There is no issue per say within the party and whatever has happened, the party endorses Kejriwal's view point and are supporting him. The party is united and will continue to fight for the rights of individuals."
Taking a dig at the Punjab state government, both Chhotepur and Phoolka maintained the government is fleecing the public.
Talking to the advocates and supporters, the leaders shared that while the government had hiked the salaries of ministers, those at lower rungs and in government jobs are still suffering.
Chhotepur added, "The salary of the legislators has been doubled but the old-age pension is yet to reach the beneficiaries. We want the people of Punjab to wake up and our aim is to reach out to as many as possible. We are preparing for the Punjab assembly elections scheduled for 2017 and aim to make a difference."

Those present included Vikram Singh Pundir, Naresh Garg Bobby, Kaushal Singh, and Rajkumar Maloya, among others, according to the press release.
At the conclusion, a sedan reportedly belonging to a volunteer accidentally caught fire at the rally venue, resulting in damage to the car but no casualties.