AIPMT retest tests faith of candidates as kada, rings were not allowed
Updated on Jul 26, 2015 12:16 AM IST
Hundreds of candidates took the retest of the All India Pre Medical Entrance Test at select centres in the region under unprecedented security on Saturday.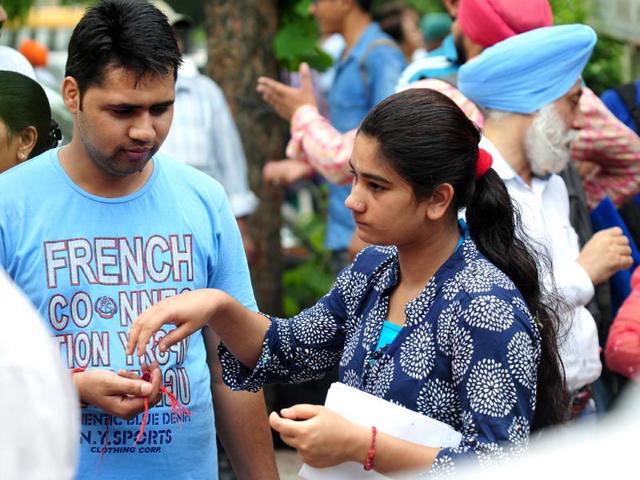 Hindustan Times |
, Chandigarh/jalandhar/shimla
HT Correspondents
Hundreds of candidates took the retest of the All India Pre Medical Entrance Test at select centres in the region under unprecedented security on Saturday.
Despite instructions from the Central Board of Security Education (CBSE) not to wear earrings, watches, rings, belts and wristbands, candidates at various AIPMT centres did not adhere to the rules, inviting inconvenience. Candidates could be seen removing rings, kada (a Sikh article of faith), moulis (threads worn during Hindu rituals), belts and even hair bands. The authorities were firm and no accessories were allowed despite a few parents arguing and citing religious reasons.
Candidates were checked by metal detectors thrice at centres.

IN FIX OVER KIRPAN IN BATHINDA
Amritdhari (baptised Sikh) students in Bathinda had a tough time convincing the authorities to allow them to enter the examination centre with kirpans (a short knife that is a Sikh article of faith) and kada. While one girl is said to have left her kirpan with the staff at the gate, unconfirmed reports said two other candidates refused to enter without their kirpan and kada. Parents joined the argument with the staff and finally an invigilator checked the kirpans and allowed the two to enter.

Also Read: Duty magistrate faces people's ire at AIPMT centre in Bathinda

29 CENTRES IN CHANDIGARH
The candidates found the test much easier than the one they had attempted on May 3. Around 15,000 students from the tricity and the neighbouring areas appeared in the exam on Saturday.Students were at much ease in attempting the biology section (90 questions) in comparison to physics and chemistry sections, which carried 45 questions each.
The retest was conducted at 29 AIPMT centres in Chandigarh, including Sacred Heart School, DAV Model School, Shishu Niketan and Carmel Convent.
It was conducted across the country on the Supreme Court's direction amid tight security after it came to light that the question paper of the AIPMT held on May 3 was leaked.
Candidates from parts of Punjab, Haryana, Himachal and Jammu and Kashmir had started arriving at the centres at 7.30am. They were allowed in at 9.30 am and the exam started at 10 am.
Police teams were deputed outside every centre.


Also Read: 15,000 appear in AIPMT in tricity

JAMMERS IN JALANDHAR


Around 10,000 candidates took the retest at 15 centres in Jalandhar under tight security.

A five-member team of Central Board of Secondary Education (CBSE) inspected each centre where mobile jammers and metal detectors were also installed to prevent cheating. Police, including women personnel, were deployed outside the centres.
Simarjot Kaur, a candidate who took the retest at BSF School, said flying squads conducted raids during the test.
Another candidate, Charu Maggo who took the test at MGN Public School said, "The examination authorities were very corporative and test was completed peacefully."
Rashmi Vij, principal of Police DAV Public School, who was co-coordinator for AIPMT, said students were frisked by teachers before they were allowed entry and the exams were videographed. She said that exams were held peacefully in the district and no incident of cheating was reported.
The exam was conducted at Army Public School, Kendriya Vidyalaya-1, Kendriya Vidalaya-3, BSF School, Dayanand Model School, Guru Amar Dass Public School, Cambridge School, MGN Public School, Police DAV Public School, Innocent Hearts School, CT Public School, Swami Sant Dass Public School, CJS Public School and Shiv Jyoti Public School.


GATES CLOSED ON LATECOMERS
In Shimla, the candidates were allowed entry at 9.30am and those who reached late, were not allowed in.
In DAV School, Lakkar Bazaar, and Kendriya Vidyalaya, Jakhu, only candidates were allowed to enter. Some were seen being told to remove jackets and belts, which were not allowed as per the dress code.
At both centres, 65 teachers were deputed to keep a vigil on the 900 aspirants who took the retest.

Also Read: Shimla: Surprised by security arrangements, aspirants hope to improve rank


Close Story
Personalise your news feed. Follow trending topics