Killer smog: Truck mows down 8 students waiting by roadside in Bathinda
Updated on Nov 08, 2017 11:26 PM IST
Mayhem on Chandigarh-Bathinda road as two accidents, caused due to poor visibility resulting from smog, kill 10 people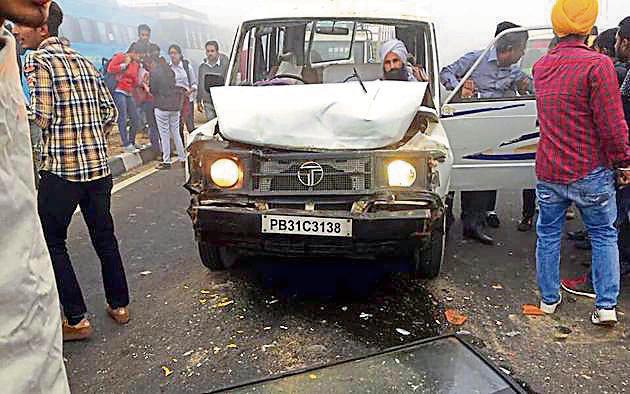 HT Correspondent
letterschd@hindustantimes.com
Bathinda
Nine people, including eight students, waiting by the roadside near Bhucho town, 10km from Bathinda city on the Chandigarh-Bathinda road, were crushed to death when a tipper truck — speeding even as smog had caused poor visibility — ran over them on Wednesday about 8.30am. The students had alighted from a private bus that had collided with a Pepsu Road Transport Corporation (PRTC) bus ahead of it a few minutes before, again due to smog. Due to the accident, two jeeps also collided, resulting in a pile-up.
About 8am, half an hour before this horrific crushing of students, Mandeep Kaur, 30, a teacher at a government school in Pitho village, was killed and 11 injured when a private bus plying towards Bhucho rammed into a PRTC bus plying ahead of it. This accident was on the opposite lane, but around the same spot.
Three students of Government Rajindra College, Bathinda, were among those killed. They have been identified as Rafi Mohammad, 20, of Dyalpur Mirza; Shikha,17, of Chauke Street, Rampura Phul, and Khushvir Kaur, 20, of Mehraj Basti, Rampura Phul. Three students of DAV College, Bathinda, Jaspreet Kaur,18; Nancy,19; Vinod Kumar Mittal,18, all of Rampura Phul, were also killed.
Manpreet Kaur, 18, of Lehra Khana village; Ishwar, 18, of Bhucho Mandi, and a 25-year-old employee with the food and supplies department, Labhpreet Kaur, are also among those killed. All nine were killed on the spot.
The state government has announced a compensation of ₹1 lakh to the kin of those dead and ₹50,000 for those injured. A case under Section 304 (culpable homicide not amounting to murder) has been registered against the unidentified tipper truck driver, who fled the spot.
Truck driver ignored warnings of onlookers
Onlookers, who had gathered at the spot, after the first accident, said they had warned the tipper driver to go slow, when he had stopped near them, a few minutes before he mowed down the students. Sukhpal Singh, a worker with a social service organisation, Sahara Jan Sewa, said, "We were taking the injured from the first accident to the Adesh Hospital, when we saw the speeding truck. He did not heed our requests to slow down," Singh claimed.