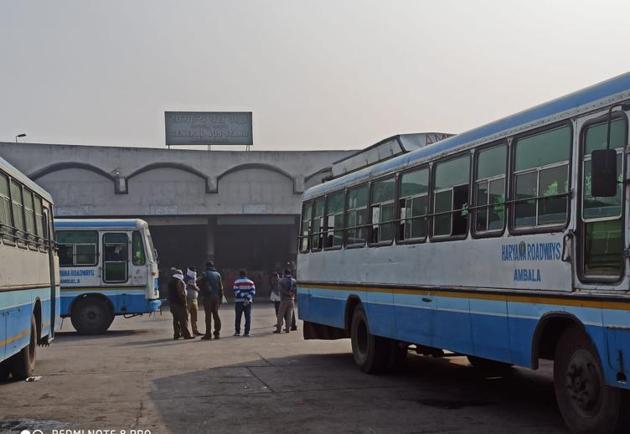 Bharat Bandh call evokes mixed response in Haryana
Shops shut, fuel stations open as traffic was diverted as a precautionary measure on NH-44 from Pipli to Kurukshetra and at Ambala
Hindustan Times, Karnal | By HT Correspondents
UPDATED ON DEC 09, 2020 01:38 AM IST
The Bharat Bandh called by farmer unions against the three farm laws introduced by the Centre evoked mixed response in Haryana.
The bandh was peaceful even as the shopkeepers in certain urban belts of the state either kept shutters open or reluctantly suspended the business activities for short duration. The grain markets, however, remained closed completely across the state.
In Kaithal, some protesters stopped a car bearing the flag of the Jannayak Janta Party (JJP) and burnt the flag. Also in Kaithal, senior Congress leader Randeep Surjewala had to face protest from farmers as the latter did not let him address a gathering, forcing him to leave the place.
Chief minister Manohar Lal Khattar accused the opposition political parties of misleading the farmers. On the other hand, senior Congress leaders Bhupinder Singh Hooda and Haryana Congress chief Kumari Selja said the response to the shutdown was overwhelming and that it underscored the need of repealing the farm laws.
According to reports, it wasn't a complete shutdown in Haryana. Movement of the trains remained unaffected, while the vehicular traffic was sparse and people travelled in private vehicles.
Farmers blocked the Hisar-Chandigarh, Rohtak-Chandigarh, Hisar-Sirsa, Jind-Patiala, Jind-Rohtak, Bhiwani-Rohtak and Delhi-Rohtak highways. However, farmers allowed emergency service vehicles to pass through blockades.
Haryana Roadways suspended services on most of the routes in Jind, Hisar, Rohtak, Dadri, Sonepat, Jhajjar and other districts till 3pm. Haryana Roadways employees had closed gates at Dadri depot in support of the farmers.
The movement of traffic on most of the key roads, including National Highway 44 (Ambala-Delhi), remained smooth and police diverted traffic on NH-44 from Pipli in Kurukshetra district.
The state-owned roadways buses of some of the depots were off the roads.
Earlier in the morning, farmers began the bandh by taking out protest march in cities and urging shopkeepers to shut their shops. However, most of the shops in Karnal, Kurukshetra and Panipat cities remained open. Response was good in small towns like Nilokheri, Ladwa, Indri, Assandh, Taraori, Israna, Samalkha and Kaithal.
At least half of the shops at Ambala cloth market remained closed. Shopkeepers at utensil market at Jagadhri in Yamunanagar were seen sitting outside with shutters down.
Most of the fuel stations remained operational. Heavy police force was deployed along all national and state highways to ensure law and order and smooth movement of traffic.
Farmer protesting at Delhi border dies
A 32-year-old farmer, who was protesting at the Singhu-Kundli border, died reportedly due to cold on Monday night, police said.
The deceased has been identified as Ajay Moor of Baroda village in Sonepat. He is survived by three daughters and wife. Kundli SHO Ravi Kumar said the farmer was protesting since December 1.
"As per fellow farmers, he died due to cold on Monday night. We have handed over Moor's body to his family members after an autopsy. We have sent his viscera to lab to confirm reason of his death," he added.
Congress' newly elected Baroda MLA Indu Raj Narwal and independent MLA from Meham, Balraj Kundu, meanwhile announced a financial help of Rs 10 lakh and Rs 2 lakh, respectively, for deceased farmer's kin.
Moor's family members and some farm unions, however, have sought Rs 1 crore compensation from the state government.
Will ask people to vote against BJP in MC polls: BKU leader
Bharatiya Kisan Union's Ambala vice-president Gulab Singh on Tuesday said they'll ensure that the BJP candidates don't win in the Ambala municipal corporation election.
"I've asked my colleagues to announce in the public that we'll ensure that the BJP candidates don't win in the elections," he added.
Close