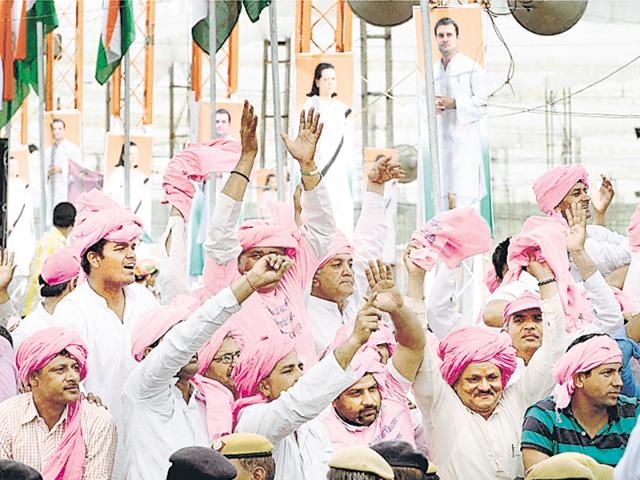 HT Regional Buzz: Gabbar and Thakur of politics
Punjab principal secretary, parliamentary affairs, cabinet affairs, coordination and general administration, Ravneet Kaur is popularly known as "chotee" (younger) Ravneet among the state officers and other employees working in the state civil secretariat in Chandigarh. You ask anyone in the secretariat corridors about the 1988-batch IAS officer, the prompt response is: "Chotee Ravneet? Go to the 6th floor".
UPDATED ON APR 20, 2015 09:11 PM IST
Punjab principal secretary, parliamentary affairs, cabinet affairs, coordination and general administration, Ravneet Kaur is popularly known as "chotee" (younger) Ravneet among the state officers and other employees working in the state civil secretariat in Chandigarh. You ask anyone in the secretariat corridors about the 1988-batch IAS officer, the prompt response is: "Chotee Ravneet? Go to the 6th floor".
The officer got the prefix as there was another IAS officer, who belonged to the 1966 batch and was much senior to her, by the same name in the state. She passed away recently. The chotee Ravneet remembers her fondly. "There was a lot of confusion when we worked together. Letters addressed to me used to reach her and vice versa," she recalled.

There's a lot in a name
What's in a name? A lot, especially the way it is spelled. Punjab food and civil supplies minister Adaish Partap Singh Kairon informed journalists the other day that his name was being spelled as "Adesh" in English newspapers more often than not. "It's Adaish, not Adesh," said the media-shy and soft-spoken minister at a media interaction, giving credit for the peculiar spelling to his teachers in a boarding school. Similarly, the chief minister's deputy principal secretary also writes his first name as 'Gaggandip' (Singh Brar) and not the usual way, Gagandeep. He too owes the different spelling of his name to his school teachers. And he is very particular about the way it is written in newspapers and elsewhere.

Punjab Police's intimidating act
Contrary to their claims, the Punjab Police have become notorious for their intimidating ways. The most recent instance is from Ludhiana where independent MLAs Simarjit Singh Bains and Balwinder Singh Bains were booked under Section 307 of the Indian Penal Code for leading a protest against the sand mining mafia. Without realising that a photojournalist of an English daily was witnessing his actions, ADCP Satvir Singh Atwal, in order to disperse residents of Chuharwal village, said: "Dus minta wich sare titar-bitar ho jao, nahi tan tuhanu pata hai ki howega (Disperse in 10 minutes or you will have to face the music)".When an elderly villager tried to look into his eyes, he went ahead and twisted his arm, yelling "akhan dikhayega hun tu mainu" (How dare you look into my eyes). However, a wise constable, realising the presence of the photojournalist, controlled the situation.

Grain pain for procurement agencies
Unlike the previous years when farmers used to complain about the procurement agencies not reaching the state mandis, the scene is different this time. The agencies are there, but no grain is arriving. The reason: Unseasonal rain and hailstorm delayed maturing of the wheat grain by almost a fortnight. Punjab food and civil supplies minister Adaish Partap Singh Kairon is feeling helpless. "We can't help it. We have made arrangements at more than 1,800 procurement centres across the state," he said. However, uncertainty persists about the vagaries of the weather.

Official brakes on 'VIP' elevator
Punjab civil secretariat in Chandigarh has four elevators and one of them, meant for very important persons (VIPs), has been barred from going beyond the 8th floor of the 10-storeyed building. Principal secretary, administration, Ravneet Kaur has given instructions to this effect. Her reasoning: No IAS officer goes to the canteen on the 10th floor (9th floor houses offices of the Haryana government). Those who take the "VIP" lift to go to the canteen have been taken aback by the order that came on Thursday.
The red card holders, having access to the so-called "VIP" lift include many non-IAS officers and besides journalists who visit the canteen. The lift operators have been citing madam's orders to those wanting to go to the 10th floor, expressing their inability to consider the request.
Obsessed with Modi mania
The Manohar Lal Khattar-led Bharatiya Janata Party (BJP) government in Haryana seems obsessed with their leader — Prime Minister Narendra Modi — whose political sway had ensured their march into power five months ago. The state bureaucrats have been asked to see how the Modi government worked in Gujarat when he was the chief minister. Also, Modi had on February 16 addressed 183 IAS probationers in Delhi, telling them that the first and foremost duty of the Indian Administrative Service should be to promote public interest. "The assured career path that the IAS offers should not make them complacent. They should judge themselves not by the posts they hold, but by what difference they have been able to make in the lives of the poor," he suggested in his address. The state chief secretary's office on Wednesday circulated the official press release, containing the essence of Modi's speech and his three pictures with the probationers, issued by the Central government to all IAS and Haryana Civil Service (HCS) officers in the state. All in public interest, of course.

Turban colour chemistry at Cong rally
The spar between Haryana Congress president Ashok Tanwar and former chief minister Bhupinder Singh Hooda, who had turned the preparations for the Kisan-Khet Mazdoor rally in New Delhi on Sunday into a show of strength, got uglier on the day of the event.
While a section of the crowd, sporting pink turbans and caps favoured by the Hooda group, booed Tanwar when he was addressing the rally, the state Congress chief's supporters also spared no effort to discredit the former CM's claims of packing the rally ground with his supporters. A few video clips, showing how those coming from states such as Rajasthan had been given pink caps by the group to show their strength, were circulated on WhatsApp. Another video clip had an old man alleging that he was given money with the cap. While the two sides did get their own set of people to the rally, the hooting and allegations could have been avoided.

Choudhry fractures her ankle
Haryana Congress leader Kiran Choudhry got injured at the Kisan-Khet Mazdoor rally in Delhi on Sunday, suffering a hairline fracture in her ankle. When her name was called to come to the podium to felicitate Congress president Sonia Gandhi and vice-president Rahul Gandhi, Kiran, who was on a crowded dais on the side, tried to find her way, but could not. The Congress legislature party (CLP) leader then jumped off it, injuring her ankle. "While I managed to reach the main podium to garland the two leaders, my foot just gave way," she said. She stumbled, but was saved by Rahul from falling again. Kiran was later seen being taken on a wheelchair and was diagnosed with a hairline fracture. She will be out of action for 10 days.

Media-savvy minister
Haryana agriculture minister OP Dhankar loves to hold press conferences. And it is not a newfound fascination that surfaced after he became a minister, an MLA for that matter. He was equally prolific before he won his first electoral battle in October last year. In the past four months in office, he has held as many press conferences. This is besides his "unscheduled" interactions with the scribes at Chandigarh and districts of the state. While most journalists welcome it, there are some who find nothing newsworthy in his press conference at times. As for Dhankar, he loves to talk at length about his party, government and his departments, skirting questions relating to the views of the opposition leaders on water, crops and farmers.

Gabbar and Thakur of politics
Ramesh Sippy's blockbuster Sholay is still alive in the minds of the people. When former Himachal chief minister Prem Kumar Dhumal's son Arun Thakur held a press conference the other day to counter chief minister Virbhadra Singh's attack on his father and MP brother Anurag Thakur, he relied on the film's immortal characters to hit out at the CM. Arun equated Virbhadra with Gabbar. "Jab-jab bhi Gabbar ayega, Thakur uska muhtod jawab dega," he declared, playing on his surname. In the movie, Thakur, a character played by Sanjeev Kumar, takes on Gabbar, the villain.

Nadda's love for home state
Union health minister Jagat Prakash Nadda was in Himachal to review the state of the national highways in the state on behalf of his cabinet colleague, minister of road, transport and highways Nitin Gadkari. After a meeting with chief minister Virbhadra Singh, he announced three more national highways at a media interaction. Asked about the opposition charge regarding cut in grants for the centrally-sponsored schemes, Nadda quipped: "Kaun kehta hein key cut lag gaya. Main to apni state ko bhaav dey raha hoon. Aap logon kay saamney maine itna kuch toh announce kar diya (Who says there is a cut. I am giving importance to my state. I have announced so much in front of you)".

Lobbying for top post
There has been intense lobbying for the chief secretary's post in Himachal from the time Parthasarathi Mitra took over in 2013. Additional chief secretary (ACS) Vidya Chander Pharkha, who is also principal secretary to chief minister Virbhadra Singh, was being considered a favourite for the top job. But his prospects took a hit when Mitra, the present incumbent, went on medical leave for three weeks and another ACS-rank IAS officer Vineet Chaudhary was given the charge. Chaudhary is now being seen as a natural successor to Mitra who will retire in May next year.

Bureaucrat's health secret
Himachal Pradesh IAS officer Shrikant Baldi is the longest serving finance secretary in the state. A 1985-batch IAS officer, who took charge of the finance and planning department in July 2011, is also known for his cool demeanour. However, a few people know the secret of his calmness. The officer, who hails from Rajasthan, takes yoga breaks to beat the stress and keep up his efficiency level.

'Tantra' to settle personal scores
The corridors of power in the hill state have been abuzz with rumours of babus using "tantra" to not only corner plum postings, but also settle personal scores. The other day, an IAS officer was heard complaining that one of his colleagues, with whom he doesn't get along, had thrown bones and animal blood used in tantric rituals at the gate of his official residence to harm him. What could not be ascertained is whether the griping officer lodged a formal complaint against the tantric colleague with the government.

Chadha and 'gadda' on road
The deplorable condition of the Theog-Hatkoti road, connecting the major apple growing areas, has been a cause of concern ever since the work to widen the 80-km road began seven years ago. The authorities have now allocated the work to another company — Chadha and Chadha company. The apple growers recently came out to protest against the road condition, carrying placards with the slogan: "Chadha and Chadha, saari sadak ka ban gaya gadda". When the department officials heard this, they could not help smiling.
(Contributed by Gurpreet Singh Nibber, Anshu Seth, Prabhjit Singh, Navneet Sharma, Rajesh Moudgil and Gaurav Bisht)
Close