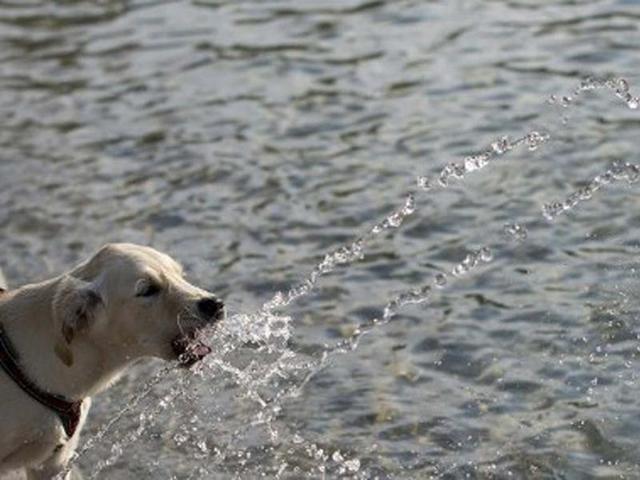 Living it up like a dog
I was walking past a friend's house this New Year's Day when a cheery hello greeted me. Thinking that a jovial and good conversationalist deserves new year greetings, I walked up to his gate but froze in my tracks when I saw a robust, unfettered dog sitting by his feet, lolling in the bright sunshine
None | By Renu Kapila
UPDATED ON MAR 12, 2014 09:39 AM IST
I was walking past a friend's house this New Year's Day when a cheery hello greeted me. Thinking that a jovial and good conversationalist deserves new year greetings, I walked up to his gate but froze in my tracks when I saw a robust, unfettered dog sitting by his feet, lolling in the bright sunshine. Sensing my hesitation, my friend opened the gate himself, introducing his dog as Zephyr. I had to ask his name twice. A wrong pronunciation may not hurt the dog as much as it could hurt the dog owner.

After exchanging pleasantries, in an attempt to be socially correct, I offered a compliment and said, "Nice dog." Mistaking this as genuine appreciation, his master began extolling the dog's 'achievements'. "Yes, he is the most handsome, show-quality boxer, a kind of perfect ten for this breed. Look at his 'socks', shiny coat and the white patch on his otherwise brindle body." Zephyr yawned and stretched himself to a more comfortable position as if to second the opinion his master.
I was amused and made the mistake of expressing my uncharitable opinion that to be adorable, dogs must be intelligent, alert and do the customary works like guarding the house. The master reacted more dangerously than expected. "He is not meant for guarding the house; I am there to do that job." I looked at the signboard on the gate that announced, "Beware of the owner; never mind the dog."
My friend went off on a tangent. "Beauty needs no brains," he declared and continued, "Haven't you heard of the most adorable heroines … and has anyone ever cared for what academic degree they possess? Look at Priyanka Chopra, Katrina Kaif and Aishwarya Rai? Does anybody care what and where they studied? All these divas rule the hearts because of their physical attributes, so does Zephyr. In fact, only those who are not beautiful need to worry about scholarly degrees." I squirmed in my seat, knowing where the last sentence was aimed at.
I tried changing the conversation with a little sarcasm. "So what are you gifting Zephyr for New Year's?" Pat came the reply, "Lots of love!" Trying to outwit him, I said, "That is fine but you must buy Zephyr a nice, expensive gift for this occasion." Having sensed that I was trying to pull his leg, he said, "See, he already has lots of books, a laptop and games." Playing along I said, "Oh, alright, then how about a bottle of nice wine?" My friend replied, "Well, he takes champagne only at formal dinners." Ridiculous, but dog-lovers are a breed unto themselves.
Walking back to the university campus, I started doubting the meaning of the 16th-century idiom of "a dog's life". I had learnt in my English class that to live or lead a dog's life meant a very unhappy, miserable and unpleasant existence. But in the 21st century, the idiom's meaning has undergone a transformation. Nowadays, a dog's life means an existence of comfort and without a care in the world.
All the same, I passionately wish that for millions of people around the world who are forced to live a dog's life, the meaning of life changes to a happier.
Close