67-year-old woman from Jalandhar succumbs to Covid-19 in Ludhiana
Patient was brought in a critical condition and was suffering from diabetes and hypertension besides flu symptoms. She was on ventilator support ever since she was admitted on June 5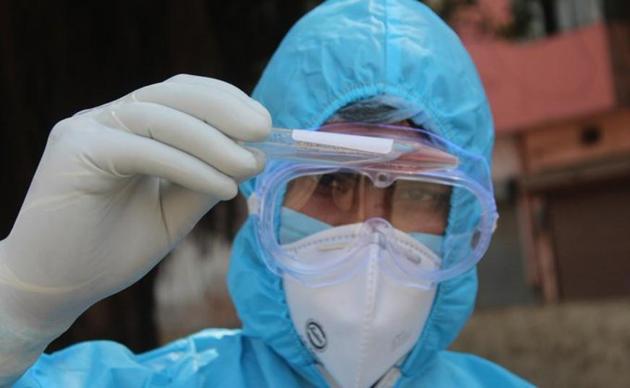 Updated on Jun 12, 2020 04:42 PM IST
Hindustan Times, Chandigarh | By HT Correspondent
Ludhiana: A 67-year-old woman from Grover Colony, Jalandhar, died of Covid-19 while undergoing treatment at Dayanand Medical College and Hospital in Ludhiana early on Friday.
Civil surgeon Dr Rajesh Bagga said the woman, Shanu Sharma, was admitted on June 5 and tested positive the next day.
Medical superintendent Dr Ashwani Chaudhary, who is in-charge of the Covid-19 units of the hospital, said the patient was brought to the hospital in a critical condition. She was suffering from diabetes and hypertension besides flu symptoms. She was on ventilator support ever since she was admitted in the hospital.
LUDHIANA WOMAN DIES AT GMCH-32
Dr Bagga said that a 42-year-old woman of Ajit Nagar in Amarpura of Ludhiana died at Government Medical College and Hospital in Sector 32, Chandigarh, on Thursday evening.
The deceased was identified as Sunita and was rushed to the civil hospital on June 9 with flu sumptoms. Her family members said she was trouble breathing.
As her condition deteriorated, she was rushed to Christian Medical College and Hospital (CMC&H). On June 10, she tested positive for Covid-19. As ventilator support was not available, the patient was referred to GMCH-32 where she died.
Sunita's son, who has been kept in isolation along with other family members, alleged that they were made to rush from one hospital to another but his mother was not given treatment. He said that if his mother would have got ventilator support in time, she may have survived.
179 CURED OF CORONAVIRUS IN LUDHIANA
Eight patients from other districts and states have lost their lives in Ludhiana's hospitals while battling Covid-19, whereas 10 people from the district, including assistant commissioner of police (ACP) Anil Kumar Kohli, have succumbed to the virus.
The total count of coronavirus positive patients in Ludhiana has reached 313, while 113 patients are from other districts and states.
A total of 179 patients have been cured of the virus.
Meanwhile, all 38 people whose samples were sent for the Covid-19 test on June 8 from the collection centre at civil hospital, Khanna, have come out to be negative. This includes 12 contacts of the positive doctor couple working at the Mohandai Oswal Hospital and 13 domestic travellers besides 13 other cases.
Close Story