Priyanka Gandhi Vadra in K'taka: '
₹

2k to women-led households, if Cong wins'

Published on Jan 16, 2023 11:30 PM IST
Addressing a 'Na Nayaki' (I am a woman leader) convention for women in the city, the Congress leader said the direct benefit scheme would help 150 million housewives.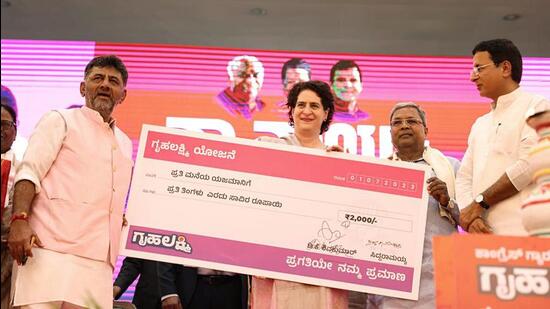 Ahead of the Karnataka assembly elections this year, All India Congress Committee (AICC) general secretary Priyanka Gandhi Vadra on Monday announced the Gruha Lakshmi scheme, promising 2,000 a month to women-led households if voted to power in the state.
Addressing a 'Na Nayaki' (I am a woman leader) convention for women in the city, the Congress leader said the direct benefit scheme would help 150 million housewives.
The Karnataka Pradesh Congress Committee (KPCC) said the scheme is an attempt of the party to share the "burden of the exorbitant LPG prices and the costly daily expenses" that a woman has to bear".
"Today, Congress guarantees that every woman head of the household will get ₹2,000 per month once we come to power. The amount will directly be credited to the accounts of the woman head of the family. This income for every woman will help them run their household by overcoming the burden of price rise and increase in LPG prices. More than 1.5 crore women will benefit from this scheme," she said.
During the event, KPCC president DK Shivakumar and Opposition leader Siddaramaiah handed over a symbolic cheque to Priyanka, pledging their commitment to implement the 'Gruha Lakshmi' scheme.
The announcement came within days of the party promising to provide 200 units of free electricity every month to all households in the state under the Gruha Jyothi Yojane if voted to power. The state assembly elections are due by May, and Karnataka has 255 million women voters out of the total 515 million.
"The Congress wants every woman of the State to be empowered and capable of standing on her own feet and also taking care of her children. The party wants to provide financial independence to each woman of Karnataka," the party said in a statement.
Priyanka said a separate manifesto for women would be released and said "corruption is rampant in the Bharatiya Janata Party (BJP)-ruled state".
"I want to ask a question. Under the BJP government, has your life become better? Did anything change in your life? Look at the past few years and evaluate your life before voting. Have you got the job? Have prices gone down? Has there been anything positive? No, right? Then it's a simple answer."
"I have been told that situation in Karnataka is very bad. ₹1.5 lakh crore money has been lost through corruption. PSI scam is shameful, you educate your children, and this is what you get from politicians in power," she added.
In her address, Priyanka raised the issue of women's empowerment and talked about "two very strong women" who raised her.
"I deeply believe that it is women who uphold our culture and tradition. It's women who bring change. It is women who make our society what it is," she asserted.
"I was brought up by two very brave and strong women. The first was my grandmother Indira ji. I saw her... I was only eight years old when she lost her son. Her son was only 33 years old," Priyanka said, recalling the death of her uncle Sanjay Gandhi.
"But the next day, she went to serve her nation. That was the sense of duty she had. That was her inner Shakti that she continued to serve the country till she died."
"I was brought up by my mother, Sonia Gandhi. At age 21, she fell in love with my father Rajiv. She came from Italy to India. She struggled to learn the traditions. She learnt the ways of India. She understood and imbibed everything from Indira ji. At 44, she lost her husband, Rajiv Gandhi," she said.
"Even though she disliked politics, she took the path of service to the nation and continues to serve... now that she is 76," he added.
Meanwhile, a day before the Congress rally for women, chief minister Basvaraj Bommai said that he would present a women-centric and pro-people Budget for 2023-24 on February 17, which will, among other things, have the scheme to assist women to manage expenses of their households.
On Monday, Bommai ridiculed Priyanka Gandhi Vadra's event in the city, saying the Congress general secretary has reached a stage where she has to announce that she is a leader.
The chief minister said since no women were rallying behind her, she herself had to announce "Na Nayaki", adding the women of Karnataka are not ready to accept her call.
"Let her (Priyanka) come. Many people come to Bengaluru. I don't have an objection. May the event take place properly, but what I am failing to understand is the title of the programme Na Nayaki," Bommai said.
"Today, people have to say Na Nayaki by keeping Priyanka Gandhi's photo. Such a situation has risen where Priyanka Gandhi has to announce herself as a woman leader," Bommai added.