Building industry still grappling with shrinking labour force in Gurgaon, Noida
Updated on May 13, 2017 04:44 PM IST
Six months after demonetisation, only 30%-35% of the labour force out of 2 lakh workers are available in Gurgaon. In Noida, migrant labourers who form the crux of construction industry are yet to recover from the after-shocks of demonetisation.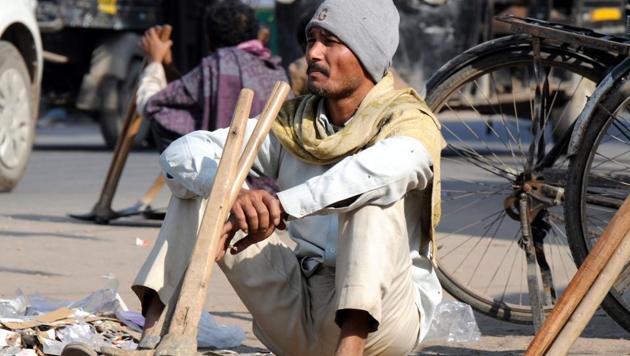 Hindustan Times, Gurgaon/Noida |
Abhishek Behl and Vaibhav Jha
The construction workers who had returned to their villages in the aftermath of demonetisation have still not come back from their villages. The result is that the construction industry has to make do with only 30%-35% of the labour force out of the normally 2 lakh available in Gurgaon.
Another reason for the less availability of labour is that workers migrate and spend summers in their villages, claimed leaders of a construction workers' union. However, the overall impact of demonetisation is still being felt by migrant labourers as a large number is still waiting for the wages promised to them by contractors before they returned home. "Although summers are lean for labour, the problem is that those who returned have not got wages. They are constantly calling us for help," said Rajender Saroha of the Bhawan Nirman Kaamgar Union.
Workers from Rajasthan, Bihar, Uttar Pradesh, Madhya Pradesh, Chhattisgarh and Odisha come to Gurgaon for work.
Trade union leaders allege the state government has done little to help construction workers and most schemes to help workers have remained ineffective. Saroha alleges that the Construction Workers' Board is supposed to pay fare to migrant labourers but he claims that forms are not being accepted, fees is not being paid to students who are children of workers, and reimbursements to deceased workers is on hold. "All the 22 schemes are in a limbo and it is because of this reason that construction workers will launch a statewide agitation in Haryana from June and July," said Saroha.
As per plan, a major meeting of construction workers' union leaders and labour will be held on May 19 to chalk out the strategy for the agitation over the next few months. "Every district will see a major agitation from June; in the first week of August, construction workers will hold a protest at the chief minister's residence in Karnal," said Saroha.
Meanwhile, labour department officials said they are doing everything to help both construction as well as industrial labour. "All schemes pertaining to labour welfare are being implemented in the district. Efforts have been made to help workers get bank accounts, registration of workers, bonus and other facilities is an ongoing process," said RK Saini, deputy labour commissioner.
In Noida, migrant labourers who form the crux of construction industry are yet to recover from the after-shocks of demonetisation.
Industry experts said approximately six lakh workers are employed in more than 9,000 industries in Noida Phase I, II, III and Greater Noida. When it comes to construction industry, approximately 1.5 lakh labourers are employed on a daily basis by various contractors and builders at construction sites in Noida and Greater Noida.
Post demonetisation, migrant labourers hailing from Haryana, Bihar, West Bengal and Jharkhand had started to return to their native places as the construction industry suffered the worst.
When HT contacted labourers in Noida after six months of demonetisation, it was found that several of them have returned from their native places. Sitting under a tree, the labourers were found waiting for jobs. "I have been waiting here, sitting idle for the past eight hours, but no contractor has contacted me yet. There is dearth of opportunities in our labour sector. Contractors usually hire two or three labourers for building construction. Gone are the days when 20-25 labourers were hired in a day," said Sukhlal, 55, hailing from Bundelkhand.
When asked whether demonetisation has hit their livelihood, Ajay, a labourer in his late teens, said, "The condition of daily-wage labourers was never good and I chose this profession due to a lack of opportunities in my hometown Bareilly. We have been suffering for the past year, even before demonetisation and post it."
But have their friends returned from their native places? Labourers claim that many have decided to stay back and many have switched professions.
"What option do they have when there is no opportunity in the market? Many have switched their profession. Now they run tea-stalls and serve their former colleagues over there," said Sukhilal.
Vipin Malhan, president of Noida Entrepreneurs Association, believes the construction industry has suffered the most during demonetisation and even six months after it.
"People don't have money to spend on constructing houses and so there is no job to be granted to labourers. When it comes to the manufacturing industry, which is organised and managed well, migrant labourers have returned to their jobs. However, the same can't be said about the construction industry," said Malhan.
EOM
Personalise your news feed. Follow trending topics