A welcome step, says PVC awardee Bana Singh
Published on Jan 24, 2023 01:12 AM IST
Param Vir Chakra awardee Captain Bana Singh (retd) said coming generations will learn more about their war heroes through this initiative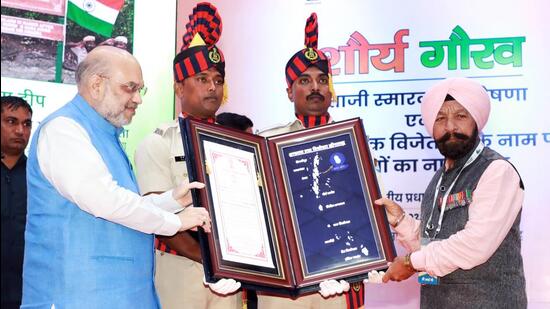 Param Vir Chakra awardee Captain Bana Singh (retd), after whom one of the 21 islands of Andaman and Nicobar has been named, on Monday said, "This is a welcome step by Prime Minister Narendra Modi. People will come to know about the supreme sacrifices of bravehearts. Coming generations will learn more about their war heroes through this initiative."
Would definitely visit the island named after my son: Vikram Batra's father
GL Batra, father of Kargil hero Captain Vikram Batra, another recipient of country's highest military decoration, called it a proud and auspicious moment for the entire country as well as Himachal Pradesh and his family.
"Now, the names of 21 bravehearts of the country will be remembered till eternity. We are happy that the government took this step as a tribute to the martyrs," he added. GL Batra said the government had informed them about the development about a month ago.
"I would definitely wish to visit the island named after my son if such opportunity ever comes," he further said.
The other PVC awardees are: Major Somnath Sharma; subedar and honorary captain (then lance naik) Karam Singh; second lieutenant Rama Raghoba Rane; Nayak Jadunath Singh; company havildar major Piru Singh; captain GS Salaria; lieutenant colonel (then major) Dhan Singh Thapa; subedar Joginder Singh; major Shaitan Singh; company quartermaster havildar Abdul Hamid; Lt Col Ardeshir Burzorji Tarapore; lance naik Albert Ekka; major Hoshiar Singh; 2nd Lt Arun Khetarpal; flying officer Nirmaljit Singh Sekhon; major Ramaswamy Parameswaran; Lt Manoj Kumar Pandey; subedar major (then rifleman) Sanjay Kumar; and honorary captain Yogendra Singh Yadav.