Amid Covid surge, Centre rushes high-level team to Chandigarh
Mar 27, 2021 01:23 AM IST
Cases have jumped by 354% this month as compared to February; team to work with local administration to ascertain the reasons and recommend measures to bend the curve
The ministry of health and family welfare on Friday rushed a high-level multidisciplinary team to Chandigarh in view of surge in the number of Covid-19 cases being reported from the Union Territory.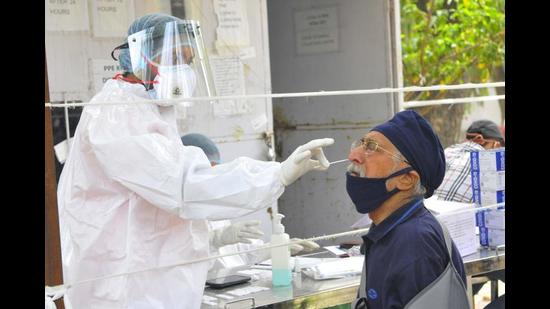 The central team will work with the UT administration to ascertain the reason/s for the surge, assist in undertaking gap analysis and recommend requisite Covid-19 control and containment measures.
The team to Chandigarh is led by Vijoy Kumar Singh, additional secretary and financial adviser, ministry of textiles, with experts drawn from Dr Ram Manohar Lohia Hospital, New Delhi, and Safdarjung Hospital, New Delhi.
With 3,834 infections already this month, compared to 845 in February, Chandigarh has recorded a 354% spike in cases.
This surge is also steeper than when the pandemic had hit its peak in September last year, as it took less than 45 days for the active cases to cross the 2,300 mark in February, against 60 days back then.
The central team shall visit the hotspots in the UT to take a stock of on-ground implementation of public health interventions. It will share the key findings, recommendations and remedial measures to be taken up with the UT administrator.
Also read: Amid Covid-19 surge, schools, colleges shut in HP till April 4
Curbs in place
The swelling cases had prompted the administration to introduce a slew of restrictions earlier this week, including closure of all educational institutions till March 31 and curbs on outdoor gatherings, including political, social and wedding events.
Permission from the deputy commissioner (DC), who will decide the number of guests, is mandatory for such events.
Restaurants, hotels and eateries can take the last order till only 10pm and have to bring down their shutters by 11pm, besides limiting their customers to 50% of their seating capacity.
All state museums, libraries, auditoriums and theatres run by the Chandigarh administration have also been closed till further orders.
There is a complete ban on public gatherings for Holi and no clubs, hotels or restaurants will be allowed to host any ceremonial gathering on the occasion. Besides, public gatherings are banned at Sukhna Lake, Sector-17 Plaza and parks, which normally see high number of Holi revellers. Residents celebrating at home are expected to follow all Covid-appropriate protocol