Beware, one mosquito bite could leave you with both dengue, chikungunya: PGI finding
Nov 26, 2022 03:10 AM IST
The findings come in the backdrop of the city having already recorded a six-year high of 101 chikungunya cases in 2022 so far. Besides, as many as 839 cases of dengue have also been reported
The Aedes aegypti mosquito — the vector — is carrying both dengue and chikungunya viruses at the same time, resulting in a surge of vector-borne diseases in the city and its neighbouring areas a Post Graduate Institute of Medical Education and Research's (PGIMER) virology department research has found.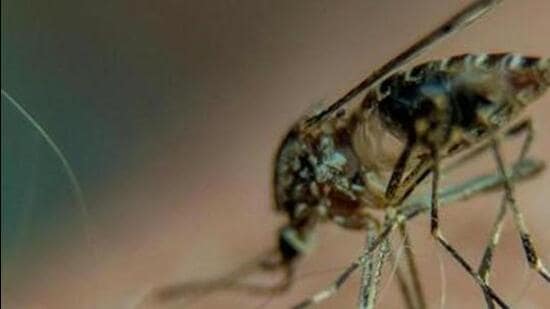 With the mosquito carrying both viruses, people have been rendered vulnerable to co-infections of both dengue and chikungunya .
The findings come in the backdrop of the city having already recorded a six-year high of 101 chikungunya cases in 2022 so far. Besides, as many as 839 cases of dengue have also been reported.
"During this season, Aedes mosquitoes have been found to carry dengue or chikungunya, singly or even both, in a lesser percentage of cases," said Radha Kanta Ratho, head of the virology department.
The study found that a bite from a mosquito carrying both the diseases, or two bites from distinct mosquitoes, each carrying a different virus — dengue virus (DENV) and chikungunya virus (CHIKV), might result in a concurrent viral infection in humans.
The findings also show that dengue and chikungunya viruses are able to replicate simultaneously in the mosquito and have the ability to deliver concomitantly infectious particles of both viruses in a single bite via saliva.
"It has been seen that Aedes aegypti happens to be the primary vector species for the transmission of dengue disease. Similarly, the same mosquito also possesses the capacity to transmit Chikungunya virus. Sometimes the mosquito is found to harbour both infections simultaneously," Ratho added.
Mosquito bites more common during day
The doctor further said that this mosquito generally bites during the day and prefers to breed around the human dwellings.
In the past years, chikungunya virus was primarily transmitted to a person through the bite of an infected mosquito, mainly Aedes aegypti and Aedes albopictus — which were only carrying chikungunya virus. Humans are the primary host of the virus during epidemic periods and mosquitoes become infected only when they feed on a person who already has the virus. Symptoms usually begin three to seven days after an infected mosquito's bite.
Dengue virus i, meanwhile, is also transmitted by the same Aedes mosquito species.
It is worth mentioning that both dengue and chikungunya viral infections have several common clinical presentations like high grade fever, headache, nausea, rashes and body pain.
While chikungunya is less fatal than dengue, its infection period is much longer. It does not cause high morbidity, but can result in complications if a patient has comorbidities. Most patients feel better within a week. However, joint pain can be severe and disabling and may persist for weeks to months.
Co-infection with the two viruses, if detected late, may result in fatal complications.
"Exciting news! Hindustan Times is now on WhatsApp Channels
Subscribe today by clicking the link and stay updated with the latest news!"
Click here!