Chandigarh: PGIMER buckles under parking pressure
Feb 02, 2023 01:14 AM IST
Nearly 25,000 vehicles enter the Post Graduate Institute of Medical Education and Research campus daily but the institute has parking space for only 3,753 cars when its master plan recommends space for 10,000 cars
Jaspreet Singh, 35, a farmer from Machhiwara in Ludhiana district, takes two hours to reach Chandigarh and another 45 minutes to find a parking at Post Graduate Institute of Medical Education and Research (PGIMER).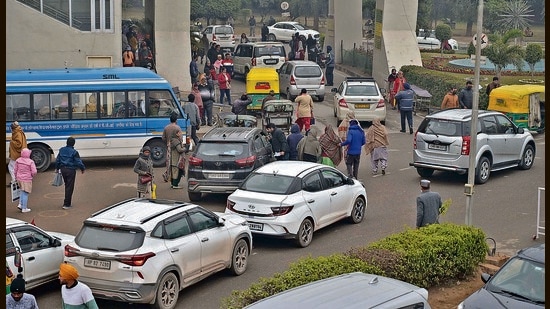 "I entered PGIMER at 8.30am for my wife's consultation at the New OPD Building, but couldn't park the car till 9.15am. After failing to find space at the multi-level car parking despite waiting 10 minutes, I was lucky to find one at the Research Block. It took me 15 minutes to walk down from Research Block to New OPD. Thankfully, I had dropped my wife outside the OPD else she would have missed the appointment," he says.
The couple visits the hospital every fortnight for check-ups but dreads the parking ordeal. "If we park on the roadside, our car is towed away by the private parking contractors, who demand at least ₹500 to release the vehicle," he says. Jaspreet says almost every patient visiting the hospital after 8.30am faces difficulty in finding a parking space.
Chandigarh resident Aditya Dhiman, 29, who visits PGIMER for his 59-year-old mother's endocrinology consultation, agrees, "During the busy OPD timings in the morning, parking a car takes an hour. Sometimes, I have to drop my mother at the institute before looking for parking space in the marketplaces of Sector 11 or 15 and walk back. It's tough but we have no choice."
Battling space crunch
They are not alone for PGIMER, North India's premier tertiary healthcare centre, spread over 277 acres in Sector 12 of Chandigarh, has long run out of parking space. PGIMER deputy director (administration) and official spokesperson Kumar Gaurav Dhawan admits, "The institute has parking space for 3,753 cars though Chandigarh building rules allow space for 3,054 cars. Yet, it is woefully inadequate, as PGI's master plan says we should have parking space for about 10,000 cars."
According to the hospital authorities, more than 25,000 vehicles, including two-wheelers, enter the PGIMER premises daily but with limited space, patients, visitors and staff members struggle to find parking. Nearly 10,000 patients visit PGIMER daily, including those for consultation in the out-patient departments (OPDs).
At present, the institute has five car parking spaces for faculty members, 12 car parking spaces for staff, and only four paid parking lots for patients and their attendants. The four include a multi-level car park that has a capacity for 600 four-wheelers in front of the New OPD building.
Due to the packed parking, people, most of them already harried due to an ailing relative or friend, leave their vehicles on the roadside, causing traffic congestion.
Shuttle service hits hurdle
To tide over the crunch, the PGIMER introduced free shuttle bus service for visitors last July. E-rickshaws were stationed at the main gate to facilitate travel to the OPD building. The bus service runs between Rotary Sarai, Red Cross Sarai, Gurdwara, Hansraj Dharamshala, Research Block, Nehru Hospital, Emergency Block, IGRT, Sector 11 gate, Nehru Hospital Extension, New OPD, Advanced Cardiac Centre and Advanced Paediatric Department.
Incidentally, not many visitors are aware about the facility. When asked why he didn't take the shuttle bus, Dhiman said, "I wasn't aware of it. But it's not convenient because I'll have to wait for 15 minutes for the bus to start plying. I'd rather walk or hire a rickshaw to the New OPD."
PGIMER spokesperson Dhawan says, "The buses are crowded in the morning. However, more awareness about the initiative is needed. People should be motivated to use this facility."
During the Covid-19 pandemic, the PGIMER authorities converted the ground floor of the multi-level parking lot of the New OPD into a waiting area for patients and their attendants. A parking contractor, requesting anonymity, said: "Now that the Covid situation has eased, the floor meant for parking 60 cars at a time should be returned, particularly between 8am and 5pm. People pick up fights with us in the absence of space but we have no say."
Parking at a premium
Visitors complain about overcharging at PGIMER's parking lots. The boards displaying the rates are either put up in a shabby manner or escape attention for they are installed at a distance.
"The parking contractor's staff charges ₹30 when the car is parked for three hours. When I point to the rate displayed, they beat a hasty retreat and take ₹25. But most people are not in a frame of mind to argue and end up paying more," says Gurmeet Singh of Karnal, who visits the institute every month for check-ups.
It's been seven years since the institute's finance committee approved the second multi-level car park near the New OPD but work on the ₹63-crore project is yet to start. The new multi-level parking for 680 cars will have seven floors and a basement. Spread over 26,000 square metres, each floor will have space for 80 cars.
PGIMER director Dr Vivek Lal says, "The project was delayed as the institute was not getting environmental clearance from the UT administration. Now things are moving. Tenders have been floated and a firm has been selected. The new multi-level parking is expected to be ready by this year-end."
Community parking
Besides, the authorities have turned vacant spaces into temporary parking lots to cope with the rush. "The temporary lots are operational near the Laundry Point and have a total capacity of 2,000 cars. Both staff and public, who can park free, use it. The space behind the Oral Health Sciences Centre is also being levelled for staff parking," says Dhawan.
The hospital is trying to manage the OPD rush by introducing timing slots for patients. "We have increased the frequency of the shuttle bus service and are encouraging staff to opt for car-pooling," says Dr Lal.
Navdeep Asija, a technical member of the Chandigarh Road Safety Society, suggests creating community parking from where a shuttle service runs to the institute. "As most patients have to travel to several blocks in the institute, they park and re-park their vehicles at different places. Community parking can be built at Sector 11 or 15 or near the PGIMER entrance gates. Free e-rickshaw or buses should be available at regular intervals to ferry patients and attendants inside the campus and from the community parking to the institute," he says.