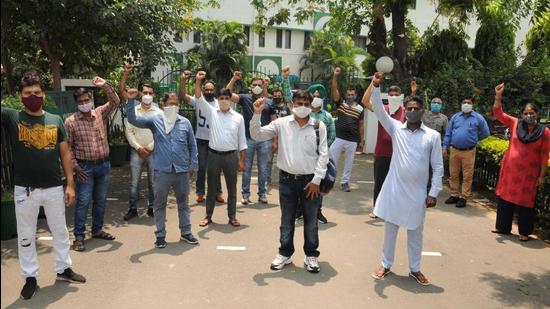 Fee row: Parents again protest outside private school in Chandigarh
They demanded that the school should not ask them to pay for utilities and facilities not being used by students during the pandemic
PUBLISHED ON JUN 16, 2021 01:15 AM IST
With offline classes yet to start for students owing to the Covid-19 pandemic, parents staged a protest outside KB DAV Senior Secondary School, Sector 7, again on Tuesday and demanded that they only be charged for tuition.
They held that the school should not ask them to pay for utilities and facilities not being used by students during the pandemic. They had also held a protest on the same issue in April.
On Tuesday, parents alleged that the school is asking them to deposit the fee in its entirety.
"The school should charge only tuition fee because parents have invested on various facilities on their own level as well during pandemic. We do not want to pay for the facilities which we have not used," said a parent seeking anonymity.
Meanwhile, a few representatives of the protesting parents also met the school principal on Tuesday to discuss the matter.
Principal Pooja Prakash said, "The fee structure of our school is nominal as compared to other schools. Parents should also try to understand about what the school is also going through given the present situation and should cooperate."
"If any parent is facing a problem, they should come to us and school will look into that," she said.
Close