From 5-star lodging to spruced up locales, Chandigarh to spend
₹

4 crore on G20 Summit

Published on Jan 23, 2023 03:01 AM IST
Chandigarh, the City Beautiful, will host a two-day G20 Summit meeting on International Financial Architecture on January 30 and 31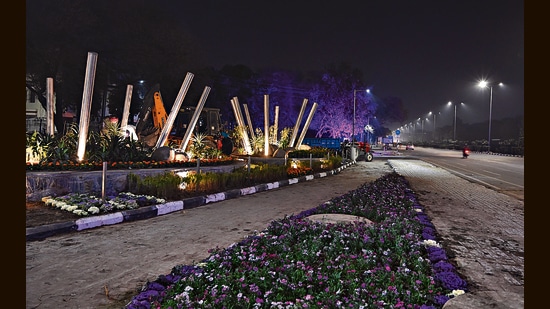 Leaving no stone unturned to make the upcoming G20 Summit in Chandigarh a grand success, the UT administration and municipal corporation are set to spend over ₹4 crore for the two-day event.
Among over 50 cities across India, the City Beautiful has been picked to host two meetings, including the first meeting of the International Financial Architecture Working Group on January 30-31 and the second, on agriculture issues, in March.
As many as 170 delegates, including representatives of G20 countries, guest countries and international organisations, will be arriving in Chandigarh two to three days ahead of the January meeting that is scheduled at Hotel Lalit, IT Park.
To ensure their comfortable stay, the administration has arranged for five-star lodging in various hotels, including Hotel Lalit, Hotel Hyatt at Industrial Area and Hotel JW Marriot in Sector 35.
A senior officer of the UT administration said nearly ₹4 crore will be spent on the boarding and lodging of the delegates in five-star hotels.
Besides, 72 SUVs and cars have been hired for their smooth commute around the city during their stay, when they will also be given a tour of Chandigarh's famous sites, including Rock Garden, Sukhna Lake and Capitol Complex.
The official added that guides well-versed with various languages will accompany the visitors to share the City Beautiful's history and other information with them.
Apart from this, the UT engineering department and municipal corporation have already spent around ₹30 lakh for the beautification of the notable locations that the delegates will be visiting.
G20 countries
Established in 1999 in response to several world economic crises, the G20 comprises Argentina, Australia, Brazil, Canada, China, France, Germany, India, Indonesia, Italy, Japan, the Republic of Korea, Mexico, Russia, Saudi Arabia, South Africa, Turkey, the UK, the US and the European Union.
Comprising the world's major developed and developing countries, G20 accounts for 80% of the global GDP, 75% of international trade and two-thirds of the world population, making it a premier forum for international economic cooperation.
It works to address major issues related to the global economy, such as international financial stability, climate change mitigation, and sustainable development.
The G20 Summit is held annually under a rotating presidency that rests with India for 2023 after Indonesia the previous year. India's theme for G20 presidency is "One Earth, One Family, One Future". Its G20 priorities include green development, climate finance and lifestyle for environment; accelerated, inclusive and resilient growth; accelerating progress on sustainable development goals; technological transformation and digital public infrastructure; multilateral institutions and women-led development.
Before the 18th G20 Heads of State and Government Summit in New Delhi in September 2023, a series of meetings will be held across the country.
Apart from Chandigarh, other host cities for the meetings include Bengaluru, Chennai, Guwahati, Indore, Jodhpur, Khajuraho, Kolkata, Lucknow, Mumbai, Pune, Rann of Kutch, Surat, Thiruvananthapuram and Udaipur that will help delegates get a glimpse of India's diverse culture, tradition, cuisine and languages.
Along with the G20 nations, India's special invitee guest countries are Bangladesh, Egypt, Mauritius, Netherlands, Nigeria, Oman, Singapore, Spain and the UAE. The invited international organisations are UN, IMF, World Bank, WHO, WTO, ILO, FSB, OECD, AU chair, NEPAD chair, ASEAN chair, ADB, ISA and CDRI.