Himachal: Adani Group's talks with truckers remain inconclusive
Jan 21, 2023 12:18 AM IST
The industries department had called a meeting of truckers and representatives of the cement companies to end the impasse that has deepened since the Adani Group shut the operations in Darlaghat and Barmana plants on December 14
Himachal Pradesh government's fresh attempt to break the 37-day-old deadlock between the Adani Group and truck unions over freight remained inconclusive on Friday.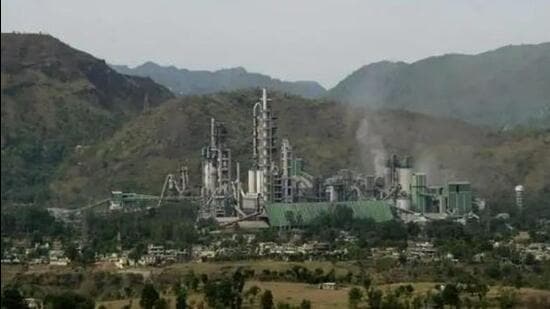 The industries department had called a meeting of truckers and representatives of the cement companies to end the impasse that has deepened since the Adani Group shut the operations in Darlaghat and Barmana plants on December 14.
"It was at the behest of the chief minister that talks were held today to end the deadlock. The government is keen to resolve the current situation soon. The government, too, conveyed its displeasure to the company officials for arbitrarily shutting down cement factories without any prior intimation," said HP industries minister Harshwardhan Chauhan, who presided over the meeting.
"We have told the cement companies to restart their operations and also urged the truck unions to cooperate," he said, adding that a notification will be issued after government studies the blueprint for the new freight charges worked out by the Himachal Consultancy Organisation.
The state government had constituted a subcommittee of officers, which had hired Himachal Consultancy organisation to work out the transportation cost of cement in accordance with the different types of trucks being used.
"So far, there has been no agreement on the core demands. The government made efforts so that truckers and companies work out an amicable solution to end the deadlock that has created livelihood issues for locals," said Ramesh Thakur, former president of Baghal Land Loser Society.
Meanwhile, the Adani Group once again wrote to the government, blaming the truck unions for the situation. "The genesis of the problem in Himachal Pradesh is due to historical reasons as the transportation market is completely controlled by the unions. These unions not only decide the rates and deployment of trucks, but also whose material should be transported and even the destination for each truck," it said.
Ajay Kapur, CEO, cement business, Adani Group, in a letter written to the chairman of the standing committee described the situation as alarming.
"Such unbridled control by the unions without authority or accountability has created not only inefficiencies, but also multilayered complications in the sector with far-reaching consequences for all stakeholders. The recent closure of our operations is an example of that," he said.
Adani Group called for a long-term solution to address the "root cause" of the problem by "freeing" the transportation market from the control of the unions. It said there was a requirement of only 550 trucks in both Ambuja and ACC cement plants.