Himachal growers seek 100% import duty on foreign apples
Published on Jan 25, 2023 12:50 AM IST
Samyukt Kisan Morcha, an umbrella organisation of farm unions, has submitted a 20-point demand charter to the Himachal government, hoping that it would "understand the fruit growers' plight and provide them a relief"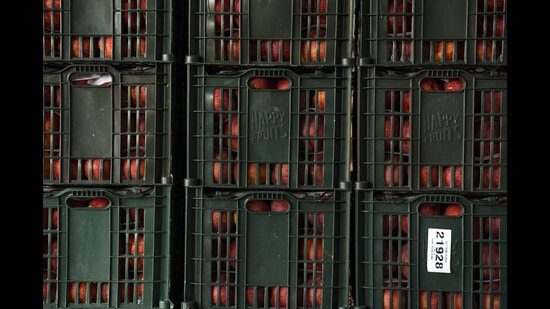 With the Himachal Pradesh's apple economy, estimated to be about ₹6,000 crore, suffering due to high input cost and fluctuating market, the Samyukt Kisan Morcha (SKM), an umbrella organisation of farm unions, has urged the state government to exclude the fruit from the free trade agreement and impose 100% import duty on foreign apples.
The SKM has submitted a 20-point demand charter to the new Congress government, hoping that it would "understand the fruit growers' plight and provide them a relief".
"Last few years have been very tough for the horticulture sector, especially the post-Covid era when the cost of production rose exponentially, whereas the prices for our produce remained the same and even fell in some instances," said Harish Chauhan, convener of the SKM.
If strong measures are not taken immediately, the horticulture sector will continue to suffer and become unsustainable, he added.
The SKM also sought implemention of the market intervention scheme in Himachal on the lines of Jammu and Kashmir, do away with GST on packaging material, and clear the pending dues worth ₹90 crore of the farmers besides restoration of subsidy on pesticides, fungicides and other input material.
Lokinder Singh Bisht, who heads the Progressive Growers' Association, said the issue of low-priced import of apples from Iran needs to be taken up with the central government. "Phytosanitary inspections should be done stringently and custom duty on apple should be increased by lobbying with the central government to include it in the special category," he added.
"The current cost of production should be worked out and the price of culled fruit be fixed keeping in mind the input cost. We propose that the price of apple procured under the market intervention scheme should be a minimum of ₹20," he further said.
The Himachal Pradesh Horticultural Produce Marketing and Processing Corporation (HPMC) should also look into setting up of a plant to manufacture ethanol from apples and other fruits to create an opportunity to convert the procured produce into industrial grade ethanol, Bisht said.
"HPMC should also provide machinery, fertilisers and pesticides at below-the-market rates by procuring the same directly from the manufacturer. Pickups and small transport vehicles should be allowed to be registered as private vehicles," he added.
Former Shimla mayor and SKM co-convener Sanjay Chauhan said a policy should be devised to cover the losses suffered by the fruit growers.
The government must take steps to waive the loans of the famers and strengthen the existing marketing facilities, he added.
"The government must also fix the MSP for apple and other crops, fix the prices for apple procured by CA stores of corporate companies. Also, the government should provide 90% subsidy to the co-operative societies to set up CA stores," he further said.
The SKM urged the chief minister to convene a meeting to resolve all issues and fulfil the "genuine demands" of the farmers and fruit growers.