IMEI-tampering racket: 4 arrested with 310 stolen mobiles in Ludhiana
Updated on Aug 10, 2022 02:28 AM IST
Four members of an interstate gang involved in International Mobile Equipment Identity (IMEI) number tampering were arrested with 310 stolen mobile phones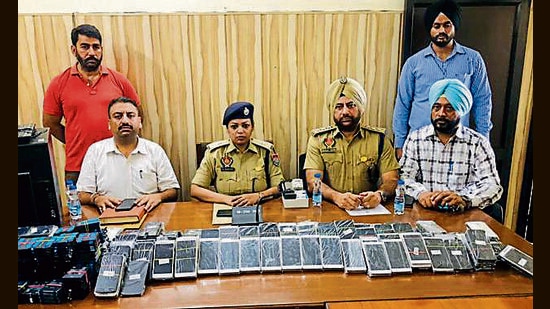 Four members of an interstate gang involved in International Mobile Equipment Identity (IMEI) number tampering were arrested with 310 stolen mobile phones on Tuesday.
The arrested accused are Vijay Singh of Uttarakhand, and Ajay Kumar, Chandan Arora and Dhiraj Kumar of Ludhiana. The kingpin of the gang, Kanwaljit Singh alias Rinku of Sonepat, is still at large.
Apart from the stolen phones, 485 mobile batteries, 16.5kg e-waste (mobile phone scrap), a computer, a programmer software and mobile repairing machine were also seized from the accused.
Khanna superintendent of police (SP, detective) Pragya Jain said, "Acting on a tip off, the CIA (Crime Investigation Agency) arrested Vijay Singh at Amloh Chowk, while he was on his way to deliver a consignment of stolen phones with tampered IMEI numbers. Later, we were able to arrest three other gang members. The accused used to procure the phones from Rinku, and sell them further, primarily to labourers."
"The accused used to purchase printed-circuit-board assemblies (PCBAs) for mobile phones at auctions, and replace the stolen phones' PCBA before reselling the refurbished phones. These tampered phones are non-traceable," Jain said, adding that the gang bought stolen phones from thieves.
A case was registered under Sections 411 (dishonestly receiving stolen property), and 420 (cheating and dishonestly inducing delivery of property) of the Indian Penal Code (IPC) and Section 65 (tampering with computer source documents) of the Information and Technology Act at the Khanna City 2 police station.
Shopkeepers have been directed to keep copies of photo identification proofs of the buyers and sellers of second-hand mobile phones. "Those purchasing used phones should demand for the box of the mobile phone and bills from the seller, and match the IMEI number and other details of the device," said the SP.
Personalise your news feed. Follow trending topics