Ludhiana: PAU book fest kicks off, mark birth anniversary of former V-C
Feb 02, 2023 11:21 PM IST
The book fest was inaugurated by PAU V-C Satbir Singh Gosal and ATARI director Rajbir Brar was the special guest on the occasion
A two-day diamond jubilee book fest was organised at the MS Randhawa Library to commemorate the birth anniversary of Mohinder Singh Randhawa, the former vice-chancellor of Punjab Agricultural University (PAU) on Thursdsay.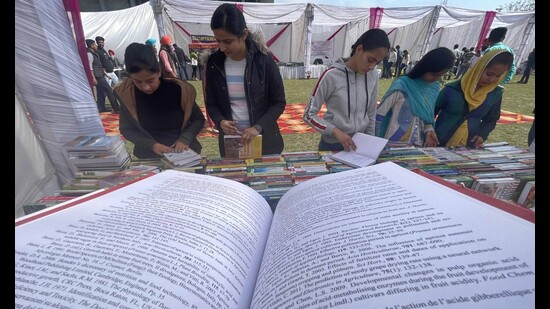 The fest was inaugurated by PAU VC Satbir Singh Gosal and ATARI director Rajbir Brar was the special guest on the occasion.
Speaking on the occasion, the university librarian OP Choudhary said, "Reputed publishers and distributor from Punjab, Delhi, Rajasthan, Uttar Pradesh and Karnataka exhibited a wide array of books on diverse themes such as, agricultural science, bioscience, engineering, geo-science, home science, social science, books pertaining to preparation for competitive exams, besides books on general reading."
Numerous stalls displaying artistic work by PAU students were the special attraction of the fest.
A book entitled "Textbook of Research and publication ethics" authored by library faculty Yogita Sharma and Aarti Sharma was also released on this occasion.
PAU VC shared that in the era of information technology, books still retain their supremacy as man's best friends.
"Books are a reservoir of limitless knowledge that has been accumulated through centuries and bring a world of wisdom to the reader. They bring forth treasures not only from the academic aspect, but also help to polish our personality", he added.
Gosal further remarked that book fests should be astutely organised as a part and parcel of an academic tradition.
This fest was a tribute to the great philosopher and visionary, MS Randhawa, whose name is etched in the annals of PAU's history. Randhawa's farsighted vision was instrumental behind Punjab's progressive roadmap, he went on to add.
PAU is proud of the fact that Randhawa had held the reins of the university in its initial days of inception. He contributed significantly not only towards agricultural science, but also towards the revival of the rich culture and heritage of Punjab, which he managed to give a new lease of life by establishing the Museum of Rural Punjab in the PAU campus. The varsity's initiative on 'clean and green campus' was a step towards realising his dream of a futuristic Punjab.
PAU communication centre editor Jagwinder Jodhan, enlightened the audience on the life and contributions of Randhawa. The programme was coordinated by department of food processing and engineering Gurvir Kaur, who shared that events such as this fest would be a regular feature hereon. University officials registrar Shammi Kapoor, director research AS Dhatt and director extension education GS Buttar.