Ludhiana woman held with 1.5 kg heroin in Mohali
Published on Jun 19, 2022 03:33 AM IST
The woman was spotted acting suspiciously at Jawaharpur Chowk in Dera Bassi, Mohali, and stopped for checking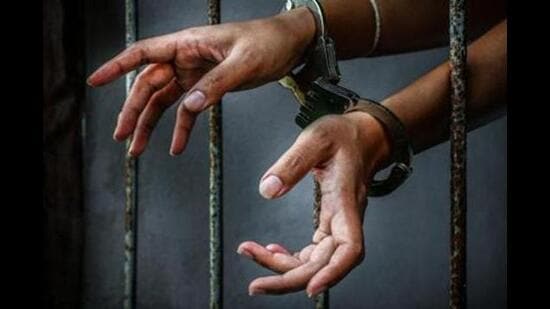 A 60-year-old woman from Ludhiana was caught with 1.5 kg heroin near Jawaharpur village in Dera Bassi on Friday evening.
The accused, Soma, is a resident of Salempur village, Jagraon, Ludhiana, said police.
Giving details, Mohali SSP Vivek Sheel Soni said, "Police have been setting up nakas across the district to keep a strict vigil on drug peddlers. A similar naka was set up at Jawaharpur Chowk on the Chandigarh-Ambala highway on Friday evening, where a woman was spotted acting suspiciously."
"The woman was stopped for checking and on being frisked, found in possession of 1.5 kg heroin. She was booked under the Narcotic Drugs and Psychotropic Substances (NDPS) Act," the SSP said.
Dera Bassi DSP Gurbakshish Singh said they had sought the woman's police custody and will be interrogating her to ascertain the source and destination of the consignment.
Also on Saturday, police arrested one Ravi Kumar, a resident of Kasor village, Bilaspur, Himachal Pradesh, after recovering 45 gm heroin from his possession.
In another incident, Gurpreet Singh and his wife, Sharanjit Kaur, currently living in Sector 115, Kharar, were found carrying 60 gm heroin near the Sector 68-69 traffic lights. Police said the couple had been supplying drugs to college and university students in Mohali.
Close Story
Terror plot foiled: ATS nabs suspected ISIS operative in Azamgarh

LUCKNOW Ahead of Independence Day, the UP Anti-Terrorism Squad on Tuesday claimed to have foiled a terror plot to target Rashtriya Swayamsevak Sangh workers, after the arrest of an alleged ISIS operative, Sabauddin Azmi, from UP's Azamgarh district. Sharing a press note, ATS officials claimed that Sabauddin Azmi was in touch with ISIS recruiters Abu Umar and Abu Bakar Al-Shami through phone and instant messaging applications.

3 from Delhi arrested for thefts in Navi Mumbai

Investigations into a house break in New Panvel led the Khandeshwar police to a gang of three in Delhi who used to come to Mumbai, stay in hotels, board a train and get down at any station and target closed flats near the stations and return to Delhi. The accused have been identified as Alimuddin Abdul Hameed (47), Sajid Khubanseeb (27) and Mohammad Ramzan Mohammad Haneef (44).

Water level at Barvi Dam rises to 91% after good rainfall in August first week

With the first week of August receiving good rainfall in catchment areas, the water level in Barvi Dam, which supplies water to Mumbai Metropolitan Region, has increased to 91% from 78%, which was the level in July last week. The officials of the dam claimed that if the rainfall continues in the coming days, the dam will get its full storage.

Moharram processions peaceful across U.P., stray violence in Bareilly

Lucknow Amid apprehensions of communal and sectarian clashes, the state police on Tuesday managed to ensure by and large peaceful Moharram processions in different districts, including Lucknow. The Moharram processions were taken out peacefully from August 1 and 9 but there were major apprehensions of law-and-order problem in the backdrop of back-to-back incidents of violence after Friday prayers in June earlier this year in Kanpur, Prayagraj and eight other districts.

'Blatant lies': Bihar BJP leaders blast Nitish Kumar for breaking ties

Senior Bharatiya Janata Party leader Ravi Shankar Prasad on Tuesday lashed out at Janata Dal (United) president Nitish Kumar for breaking ties with the National Democratic Alliance and joining hands with the Rashtriya Janata Dal to form a new government in Bihar. Stating that JDU won the 2019 Lok Sabha elections in the name of Prime Minister Narendra Modi, Prasad said the tally of JD(U) MPs also increased to 16.
Personalise your news feed. Follow trending topics