No fitness fire in Mohali firemen's belly
Published on Aug 10, 2022 03:01 AM IST
Recruited two years back, 24 contractual firemen at the Mohali fire department recently underwent a physical fitness test and 10 of them flunked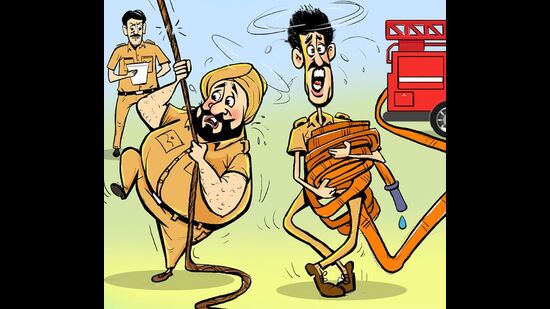 Physical fitness, among the primary requirements for firefighters, seems to be on the bottom of the checklist when it comes to the contractual firemen of the Mohali fire department.
Recruited two years back, the 24 contractual firemen at the department recently underwent a physical fitness test, pre-planned by the municipal corporation, and were expected to come out with flying colours.
But 10 of the 24 flunked majorly. Asked to climb a rope and run with weight, to check their aerobic fitness, endurance and muscular strength, the 10 firemen were left huffing and puffing. Also, on checking their height, which should be minimum 165 cm, and weight, which should be proportionate to the height, all 10 were found ineligible for the post.
MC commissioner Navjot Kaur had ordered the physical test to ensure that the firemen were equipped for firefighting jobs at any moment. A committee of senior officers, including the chief fire officer, was constituted to take the test and the firemen were given a month to prepare for it.
ALSO READ: Mohali MC's own building not equipped to fight fire
While there are 80 sanctioned regular posts for firemen in the department, only 13 are filled. In the absence of regular firemen, 24 firemen are handling the job on contract basis, against a monthly salary of ₹9,000.
MC commissioner Navjot Kaur said, "I have not seen the results yet, but we will take action. Firefighters need to main peak physical condition to perform at their best at any moment. Without the ability to utilise the sudden and intense energy needed to fight a fire, a firefighter can be in grave danger."
President of Consumer Protection Federation, Mohali, PS Virdi said, "It's a matter of concern that the fire department recruited unfit people. What's more surprising is that these employees have been working for the past two years. An inquiry should be conducted."
Personalise your news feed. Follow trending topics