Patients left high and dry as doctors go on strike in Punjab
OPD services in civil hospitals suspended as doctors protest against sixth pay panel recommendation on delinking NPA from basic pay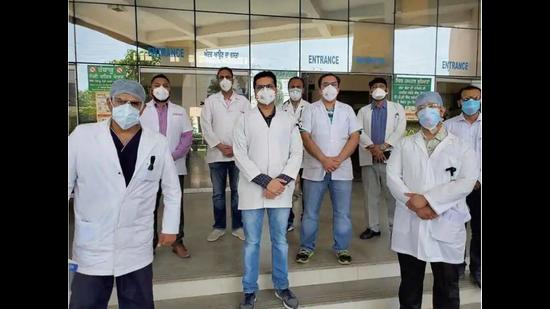 Updated on Jun 25, 2021 06:03 PM IST
Patients were at the receiving end as doctors at government hospitals in Punjab boycotted work on Friday and held demonstrations against the recommendation of the sixth pay commission of delinking non-practising allowance (NPA) from basic pay.
Outpatient department (OPD) services remained non-functional in most government hospitals as protesting doctors refused to attend to patients.
Also read: India's vaccination not fast enough to foil Covid-19 3rd wave: Report
The call for the day-long strike was given by the Joint Punjab Government Doctors Coordination Committee, which has members from the Punjab Civil Medical Services Association and is supported by the Punjab State Veterinary Officers Association, Punjab Medical Teachers Association, Rural Medical Officers Association, Punjab Dental Medical Officers Association and Punjab Ayurveda Officers Association.
Black badge protest at medical college in Faridkot
All OPDs in civil hospitals in Faridkot, Moga, Bathinda, Muktsar, Ferozepur and Fazilka districts remained closed. Patients unaware of the strike reached hospitals only to return after waiting to be attended.
The OPD services at Guru Gobind Singh Medical College and Hospital in Faridkot was, however, functional. A few doctors of the medical college did not join the protest, while others registered their protest by wearing black badges on duty.
Dr Shilekh Mittal, the medical superintendent of the medical college and hospital, said: "There has been some impact on OPD services due to the strike but we are providing treatment to all patients. We have medical students on duty along with doctors, so patients are not facing any problem."
Dr Chander Shekhar Kakkar, a senior vice-president of the PCMS Association, Punjab, said that all OPDs have been closed in the state to protest against the pay commission recommendations. "If the state government does not accept our demands, a decision will be taken after consulting association members to scale up the protest by closing more services on Monday. Our main demands are the restoration of NPA, 5% house rent to doctors and higher education allowance to all doctors equally," he said.
"The medical college is providing OPD services despite the strike call. All medical college doctors do not directly come under the state health department and they also have interns. But we are going to ask them to close the OPD in support of the strike as this is a joint protest of doctors," he said.
Emergency, Covid services unaffected
The OPD services besides academic and administrative work remained suspended at Government Rajindra Hospital and dental college in Patiala.
Punjab State Medical and Dental Teachers Association general secretary Dr DS Bhullar said emergency and Covid-19 related services are on and these will not be affected due to the strike.
Rupinder Kaur, a patient's attendant, said: "We have come for follow-up checks as my mother underwent surgery recently. Since the OPD services are unavailable, we have been told to visit some other day next week," she said.
Patients caught unawares in Ludhiana
Health services in Ludhiana remained suspended in response to the PCMS Association's strike call.
Members of the Joint Punjab Government Doctors Coordination Committee, which includes PCMS doctors, rural medical officers, homoeopathy and ayurveda practitioners, held a protest and raised slogans against the state government.
Besides OPD and IPD services, elective surgeries were also not conducted.
Puja Rana of Field Gunj, who came to the civil hospital for skin treatment, said that the department was closed and she was asked to visit on Monday.
Durgesh Kumar, a migrant who had come from Guru Arjan Dev Nagar near Samrala Chowk, said that he was suffering from stomach pain but on reaching the civil hospital, he was told that OPD services were suspended. "I work in a factory and can't afford to take leave every day. Why should patients pay for this? Doctors should stop treating government officials instead."
Rohit Rampal, a member of Punjab Civil Medical Services (PCMS) Doctors Association, said: "Instead of giving extra allowance to Covid warriors, the government has decided to reduce the salaries of doctors."
He said that the NPA used to be 25% of the basic salary and the sixth pay commission, which aims to better the pay scales, has proposed to reduce this to 20% and also delink non-practising allowance from the basic salary.
Doctors threaten indefinite strike
Amritsar: OPD services were disrupted in government hospitals in Amritsar district due to the strike by doctors. However, Covid-19 and emergency services remained normal.
The doctors threatened an indefinite strike if their demand was not met.
Other government employees' associations also supported the doctors' strike. "Doctors risk their lives to save Covid-19 patients and instead of rewarding them, the government is punishing them," said Rakesh Kumar of the Employees Welfare Association.
With inputs by Navrajdeep Singh in Patiala, Mohit Khanna in Ludhiana and Surjit Singh in Amritsar
Close Story