Punjab Cabinet likely to approve new industrial policy today
Feb 03, 2023 12:18 AM IST
The proposed industrial policy, which was discussed by chief minister Bhagwant Mann with top officials of the industries department on Wednesday, will come up for discussion in the cabinet meeting
The Punjab cabinet is likely to approve the new 'Punjab Industrial and Business Development Policy' on Friday.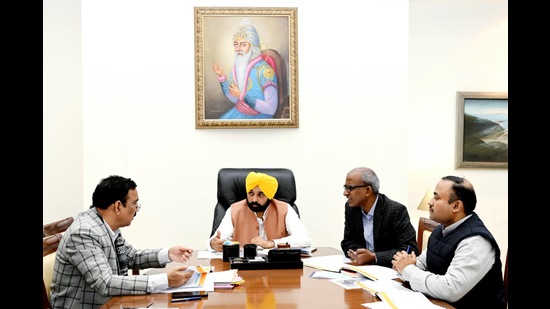 The proposed industrial policy, which was discussed by chief minister Bhagwant Mann with top officials of the industries department on Wednesday, will come up for discussion in the cabinet meeting. The policy, which is important in view of the investors' summit being organised by the state government on February 24 and 24, focuses on employment generation for locals, ease of doing business and incentives to pitch the state as an investment destination. The proposed policy also has a provision for a subsidy to units employing people with Punjab domicile.
In Wednesday's meeting, two new central schemes, unity malls and galvanizing organic bio-agro resources dhan scheme (Gobardhan) under which 500 new 'waste to wealth' plants were announced by Union finance ministry Nirmala Sitharaman were discussed, according to sources. Both schemes have been incorporated into the industrial policy. The draft policy was unveiled on September 9 for feedback from the industry and other stakeholders, including 15 departments, boards and corporations. HT was the first to report the policy details. The proposal to hike power rates was opposed by the industry. The previous industrial policy, framed by the then Congress government in 2017, had ended on October 17, 2022. Besides the industrial policy, the state's first logistics policy and electronic vehicle (EV) policy are also likely to come up for discussion. The integrated logistics and logistics park policy proposes fiscal and non-fiscal incentives for investments in multi-modal logistics parks, transport centres, wayside amenities, specialised warehouses in border districts and specialised commercial vehicle fleets. The policy pitches logistics as a thrust area, identifying it as an eligible service enterprise for fiscal incentives, including reimbursement of state goods and services tax (SGST), employment general subsidy and exemption from the change of land use charges (CLU) and external development charges.