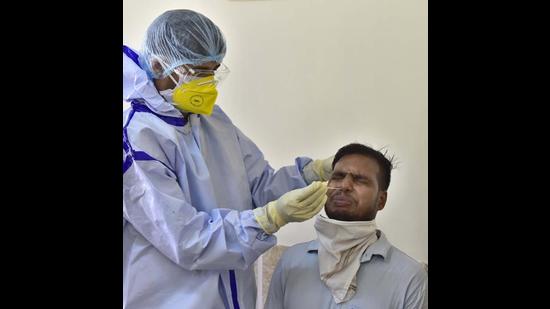 Rumours deterring villagers in Ludhiana from getting tested: Survey
The first six-day long survey, which was conducted by Asha workers, covered 1,65,314 households and 7,66,452 people in the district
By Mohit Khanna
, Ludhiana
PUBLISHED ON MAY 30, 2021 01:17 AM IST
Two days after a man who did not want to be tested for the coronavirus disease attacked a health department staffer, a Mission Fateh-2 survey has revealed that rampant misinformation being spread through social media was hampering the testing and vaccination process in villages.
The first six-day long survey, which was conducted by Asha workers, covered 1,65,314 households and 7,66,452 people in the district. Of the 16,564 people tested, 193 were found positive. Mission Fateh kits were provided to all patients in home isolation.
Civil surgeon Dr Kiran Ahluwalia said, "There is a misconception prevalent among villagers that if they were to test positive, they will be sent to the hospital. We are assuring people that a positive diagnosis does not necessarily lead to hospitalisation."
"Efforts are also on to dispel misinformation regarding deaths of Covid patients in hospital. Sadly, social media is doing more harm than good as people are increasingly falling prey to fake news," Ahluwalia said.
With fake news, misinformation and disinformation abound, the matter was raised during the interaction between city-based NGOs with the administration.
During the meeting, Congress councillor Mamta Ashu, the wife of Cabinet minister Bharat Bhushan Ashu, urged women volunteers to be harbingers of social change in villages.
"Women social activists living in urban areas could mobilise their womenfolk living in rural areas. Once women in rural areas shun hesitancy and come forward to get themselves tested and vaccinated, the men and elderly will also follow suit. If NGOs start adopting two to four villagers, we will get encouraging results in testing as well as in vaccinations," she said.
Dayanand Medical College and Hospital senior cardiologist at Dr Bishav Mohan, who is also a member of the Covid task force, said people living in villages were indulging in self- medication and reaching at a very late stage when the saturation had dropped significantly.
Dr Sandeep Kaur, senior medical officer (SMO) of community health centre (CHC), Pakhowal, where the healthcare worker was attacked said that the health staff was facing numerous challenges. "Each day health department teams carrying out the drive have to dispel fake claims linked to tests and vaccination," said Dr Kaur.
Tejpal Singh, state committee member of the multipurpose health employee union, said sampling could not be carried out in the Rachhin village of Pakhowa where the health department team that was carrying out sampling was attacked. "The situation is more or less the same in most of the villages," said Tejpal Singh.
On May 27, a villager had attacked Suraaj Mohammed, 47, a multipurpose health worker, who along with two women employees, was encouraging residents to take Covid tests.
Close