'Sharp focus on tourism set to benefit Himachal'
Feb 01, 2023 11:26 PM IST
Union finance minister Nirmala Sitharaman on Wednesday announced that at least 50 tourist destinations will be selected through 'Challenge Mode' and developed as a whole package for domestic and international tourism
The Union Budget has brought a ray of hope for the Himachal Pradesh tourism industry, which looks forward to reap benefits of enhanced connectivity and other infrastructure development.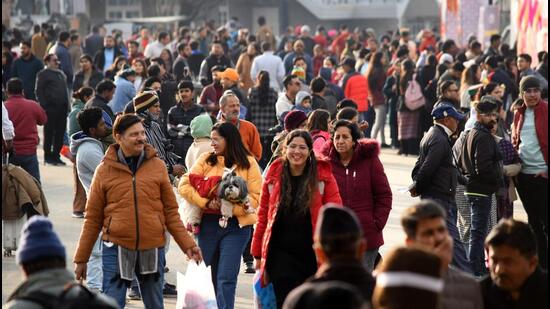 Union finance minister Nirmala Sitharaman on Wednesday announced that at least 50 tourist destinations will be selected through 'Challenge Mode' and developed as a whole package for domestic and international tourism.
In addition to physical and virtual connectivity, tourist guides, high standards of food streets and tourists' security, all relevant aspects would be made available on a mobile application (app) to enhance tourist experience. The focus be on domestic as well as foreign tourists, she said.
The tourism sector of Himachal Pradesh contributes 7% to the state's gross domestic product.
"Developing the tourism industry as a complete package is a welcome step, but the existing destinations should also get funding for improvement in sightseeing places in and around them. There is a need to improve and add new attractions to the old tourist places. This will help in increasing the stay of tourists at each destination and make the existing tourism units viable to further increase the state revenue," said Mohinder Seth, president of Himachal Pradesh Tourism Stakeholders Association.
There is a provision of ₹10 lakh crore for infrastructure development in the general budget. In Himachal, the Parwanoo-Shimla four-lane project is underway, but the work on Pinjore-Baddi, Shimla-Mataur and Pathankot-Chakki-Mandi four-lane projects has yet to begin.
These projects of Himachal are expected to get funds from the amount allocated in the budget for infrastructure development. Along with these, additional funds will accelerate the works on stretches between Bhanupalli and Bilaspur, Hamirpur and Una, and Baddi and Chandigarh.
The finance minister has also announced the opening of 157 nursing colleges in the budget. In the last few years, four new medical colleges have been opened in Himachal's Hamirpur, Chamba, Nahan, and Mandi, but do not have nursing colleges.
Most of the industries in Himachal are categorised under the micro, small and medium enterprises (MSMEs) sector. About 80% of the industries established in the state belong to this category. Himachal's entrepreneurs are also likely to benefit from the announcement of a credit guarantee scheme of ₹ 9,000 crore for the MSME sector in the budget.
"The budget covered mostly all the sectors, predominantly agriculture, rural development, green growth, women empowerment, tourism, MSMEs and startups. Himachal Pradesh is a tourist destination and this budget has given a boost to the state's policy on tourism. Industries into green technology and technical farming have also been given a push. Overall, the budget is fair and visionary," said Subodh Gupta, chairperson, Confederation of Indian Industry, HP.