Students' wait for evacuation at Ukraine-Poland border gets longer
Published on Mar 06, 2022 01:00 AM IST
Khushwinder Kaur, 23, who belongs to Faridkot, has managed to reach Poland cross the border but is now waiting to be flown back to India for the past 72 hours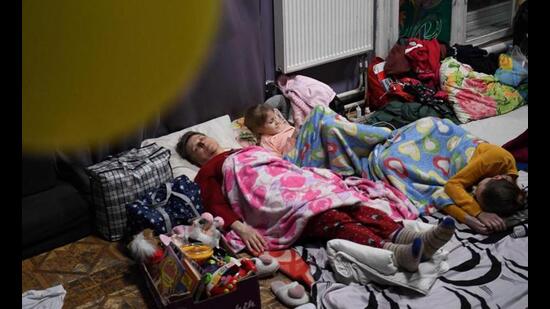 There seems to be no end to the ordeal of students stranded in the war-torn country as wait for evacuation gets longer on the Poland-Ukraine border.
Khushwinder Kaur, 23, who belongs to Faridkot, has managed to reach Poland cross the border but is now waiting to be flown back to India for the past 72 hours. "There is no clarity over evacuation yet. A number of students, who fled Ukraine, are coming here every day. Till Friday, there were around 600 students taking shelter in a hall of a hotel, but now of there are more than 900 of us waiting for our turn to return home," she said.
Meanwhile, 24 students from Punjab are now moving towards the Romania border as they failed to cross the crowded Shehyni-Medyka border to enter Poland even after waiting for 11 hours. Among them is Abhishek Sharma, 22, who belongs to Kotkapura in Faridkot and had gone to Ukraine to pursue MBBS just a month ago.
He said that they are facing though time to cross the border. "We somehow reached the Shehyni-Medyka border, only to face chaos and get stranded for hours due to long queues. So, we decided to leave Ukraine via Romania, due to which we have to cover around 400 extra kilometres," he said.
"As trains and other public transports are overcrowded or not available, we have hired two vans to reach the Romania border. They are charging $300 from each student. As the government is not helping, we are left with no other choice. Right now, we have reached Chernivtsi city and hopefully, we will cross the border as this area is comparatively silent. It has been three days that we are travelling continuously. I have not taken a proper meal for the last five days," said. Abhishek.
Some staying put in Poland, moving to other European countries
Meanwhile, instead of returning home, some students are moving to other European countries or staying put in Poland. They are assessing the situation to seek other opportunities.
After the Russian attack on Ukraine, Poland announced that no visa will be required for Indian nationals crossing into the country from the war-torn nation. While a large number of students are waiting for evacuation or still stranded in the war-zone, some have returned home safely.
Some students, who had crossed over to Poland, have refused to go back to India and a few have moved to other European countries. Most of these students are those who went to Ukraine to pursue linguistic courses or other equivalent courses.
Ukrainian universities are seen as a gateway to the European job market, offering affordable course prices, straightforward visa terms and the possibility of permanent residency, which could allow access to south European countries.
A Kotkapura native, Gurpreet Sharma, who had shifted to Kyiv last year for a language course, has not returned home despite crossing Poland border a week ago. "He had just completed his school and went to Ukraine for better opportunities last year. He has moved to Portugal seeking better opportunities," said Gurpreet's father Jagseer Sharma.
Yograj Sharma, who hails from Wander Jattana village in Faridkot district, is also not willing to return to India as he is staying put at his distant relative's house in Poland. "I will wait till the war ends and also look for opportunities in Poland," he said.
Parveen Kumar, father of Simran, who was also pursuing a study in Ukraine's capital, said that Simran has reached Poland but she is not going to come back.
Personalise your news feed. Follow trending topics