Unemployed ETT teachers demand tweaks in recruitment process in Mohali
Updated on Aug 10, 2022 03:18 AM IST
The protestors closed the main gate of the DPI office in Phase 8, Mohali, in the presence of heavy police deployment and raised slogans demanding tweaks in recruitment process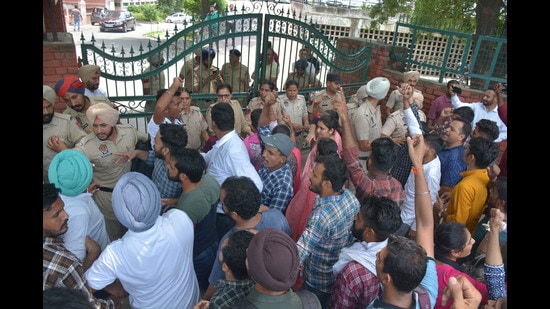 Unemployed elementary teacher training (ETT) teachers on Tuesday held a protest over their longstanding demands pertaining to recruitment porcess.
The protestors closed the main gate of the directorate of public instructions (DPI) office in Phase 8, Mohali in the presence of heavy police deployment and raised slogans against the state government.
Speaking on the occasion, Unemployed ETT Teachers Union president Deepak Kamboj said they were demanding that the joining letter of ETT 6635 recruitment be issued at the earliest and the subsequent process be initiated.
"The online portal for the new recruitment of ETT 5994 should also be opened soon and the process of filling the form should be started," he added.
In addition, the protesting members also demanded the restoration of 2,364 ETT recruitment, a chance for overage colleagues and a mandate of a necessary Punjab residency certificate for the 5994 recruitments.
Personalise your news feed. Follow trending topics