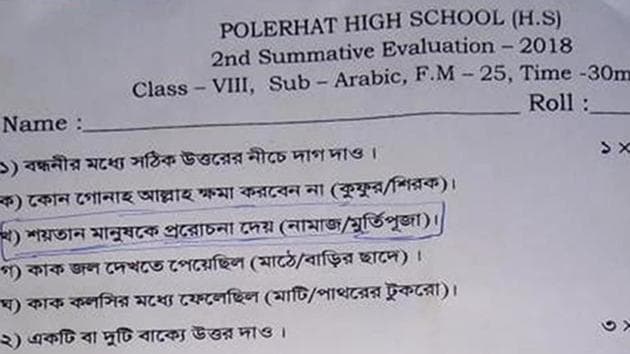 Communally sensitive question in Bengal school has Hindu groups up in arms, police on alert
On August 9, class 8 students appearing for a 30-minute third language test at Polerhat High School were asked: "What provokes an evil person?" with the options being "idol worship" and "namaz".
UPDATED ON AUG 21, 2018 03:59 PM IST
A question in an Arabic language test in a state-sponsored school in Bengal's South 24 Parganas district has caused tension in the area after Hindu groups took up the matter, leading to the administration and police to go on high alert to avert any communal flare-up.
On August 9, class 8 students appearing for a 30-minute third language test at Polerhat High School were asked: "What provokes an evil person?" with the options being "idol worship" and "namaz".
Since all students who took the test are Muslims, the answer was quite obvious, local Hindus have alleged.
Tension mounted soon after parents of Hindu students in the school came to know of the test. Since students opting for Arabic in most schools in the state use the Bengali script up to class 12, people in Polerhat could easily read the question paper, a copy of which is available with HT.
The questions were set by the school's sole Arabic teacher Mohabubar Rehman, 42, who is a full-time faculty member recruited 12 years ago and a post graduate in the language from Calcutta University.
A police team visited the school on August 17 and told the teacher-in-charge that tension was mounting in the area. However, no action was taken against Rehman till Monday evening.
"Since the matter is very sensitive, I did not involve others. I had a one-on-one meeting with Rehman. He pleaded it was a mistake and apologised. I warned him. He promised not to make such a mistake again," said Baburam Das, teacher-in-charge of the school.
"In almost all schools in this area, Sanskrit and Arabic are the only options for students who need to choose an additional language once they are promoted to class seven under the West Bengal Board of Secondary Education. Only Bhangar Girls School offers Hindi instead of Arabic," he added.
On his part, Rehman said: "I have to teach Bengali and history as well. I made a mistake under work pressure. I admitted it to the teacher-in-charge and requested him to reduce my responsibilities."
The Hindu Jagran Manch that has launched a movement in the area on this issue refuses to accept that Rehman made a mistake.
"Nobody sets a question paper like that unless he intends to. It cannot be an act of oversight. Parents of a few Muslim students raised objection when local people started a signature campaign. The question was set in such a way that whichever answer a student chose, it would go against one religion or the other," said Swarup Dutta, Hindu Jagran Manch karyakarta for south Bengal.
Police said that no complaint has been lodged yet.
"We will take action if someone files a written complaint. The intelligence branch and criminal investigation department (CID) monitor social media. If they find something objectionable, they act on their own," Arijit Sinha, superintendent of police, Baruipur, said when asked about the police team's visit to the school.
Dutta however alleged that like Polerhat, areas such as Bhangar, Baruipur and Haroa have witnessed sizable increase in Muslim population in recent years, and both North and South 24 Parganas districts have pockets where Muslims outnumber Hindus, asking who will be courageous enough to file a complaint.
The higher secondary school is situated at Polerhat, 38 km from Basirhat in North 24 Parganas district, where a social media post by a class 11 student led to communal rioting in July last year. Though the official death toll stood at one, more than 30 people were injured and dozens of houses and shops were set on fire. Paramilitary forces had to be deployed in the area to check the violence.
Close