34 more oxygen plants in Delhi by October 31: LG's office after review
The LG reiterated that the situation faced during the last wave should not be repeated, said an official in LG's office.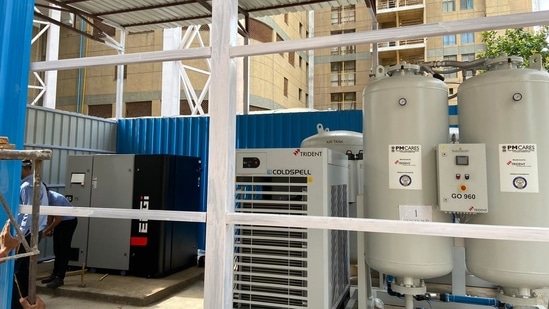 Updated on Jul 15, 2021 05:35 AM IST
At least 34 more pressure swing adsorption (PSA) oxygen plants are likely to be commissioned in different hospitals in the city by October 31, said a senior official in Lieutenant Governor (LG) Anil Baijal's office on Wednesday. Of the 34 PSA plants, 30 will be installed in hospitals run by the Delhi government and four in central government hospitals.
On Wednesday, Baijal chaired a review meeting on the installation of 160 PSA oxygen plants, which are to be installed in both government and private sector hospitals in the city this year and collectively produce more than 148 metric tonne (MT) of medical oxygen per day, said the official who asked not to be named.
Baijal stressed on sticking to the deadlines for each plant and ensuring that a situation, such as the last and the worst wave of Covid-19 so far in the Capital, does not get repeated, said the official.
"The LG's office was informed that a total of 160 PSA plants with a capacity of 148.11MT were being installed... The LG enquired how the figure of 160 plants was arrived at, and was informed that it was based on the requirement of around 150MT as submitted by hospitals," said the official.
While 66 PSA plants, including 17 under the PM-CARES fund, are being set up in state-run hospitals, 10 are being installed in central government and 84 in private hospitals. Of the 66 plants planned in Delhi government hospitals, 36 have been commissioned, 27 are expected to be unveiled by August 31, and three more by October 31, said the official.
"Six out of the 10 plants to be installed in central government hospitals have already been commissioned. The remaining four are to be commissioned by August 15... In private hospitals, 37 out of 84 plants have been commissioned," said the official.
Topics
Close Story